Your Guide to Antalya Real Estate
We assisted many people to acquire properties to start living their dream lives. We're always eager to lend a hand to you, as well.
If you're planning to buy a house in Antalya, get in touch with our team at Get Golden Visa to get help from our independent real estate advisors.
This guide includes:
Buying Property in Antalya
---
Antalya in a Nutshell
Region: Mediterranean
Population: 2.619.832
Area: 20.177 km²
Distance From Main Airports: 18 km
---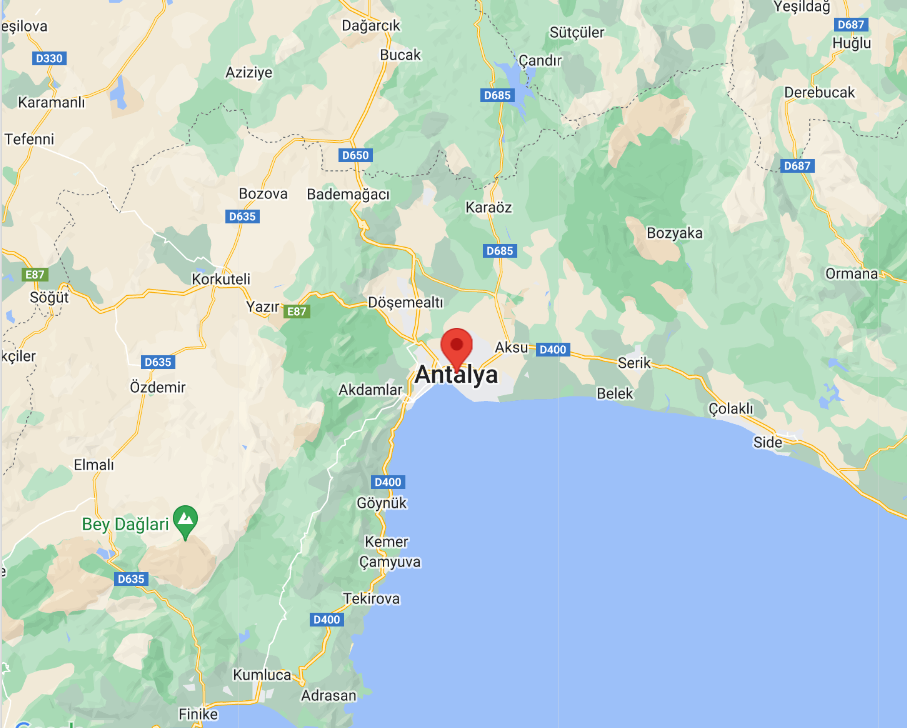 Advantages of Buying Property in Antalya
Antalya is a great city to live in because it has something to offer to everyone. It's a vivacious city where you can also find tranquility or the opportunity for an active life. But why should you invest in Antalya real estate?
Here are a few reasons why you should start looking into houses for sale in Antalya Turkey:
Affordable Real Estate
Antalya is a hot location in terms of real estate. The prices are incredibly fair compared to the European cities, especially if you're okay with living a little further from the center.
Excellent Education Facilities
Turkey, in general, offers great education opportunities. Since Antalya is the fifth largest city in the country, there are education facilities of great quality. The educational institutions in Antalya have excellent teaching staff who use the latest technical equipment, and educational tools. There are free educational facilities as well as private institutions where students can receive education in different languages. There are also a number of decent public and private universities that offer various programs.
Perfect Investment
Since Antalya is one of the largest cities in Turkey, constantly developing and swarming with tourism investments, the real estate scene is hale and hearty as well. Hence, buying property in Antalya is the perfect investment. Especially if you happen to find an Antalya house for sale that's listed below its value, don't miss this great investment opportunity because you'll most likely multiply your money.
Cost of Living
As it's the case in every city, the cost of living in Antalya varies depending on the location. Living costs decrease as you move further from the city center and tourist locations. However, overall prices are definitely lower compared to any other location in Europe. What's best is that the quality of life is considerably high whereas the cost of living is convenient.
Turkish Citizenship
One of the greatest advantages of investing in Antalya real estate is that it provides the investor with the opportunity to become a Turkish citizen.
Through the investment citizenship program, you can apply for Turkish citizenship on the condition that you buy real estate property in Turkey that's of at least $400,000 value.
Security of the City
As one of the safest cities in Turkey, Antalya offers an atmosphere of tolerance and hospitality. The city has a high level of compliance with social rules whereas its violence and crime rates are the lowest in the country.
Rich History
There's a mesmerizing historical texture in every corner of Antalya because the city dates back to BC. The region where Antalya is located has been home to the Lycians, Lydians, Pamphylians, Pergamon, Romans, Byzantines, Seljuks, and Ottomans throughout history. Hence, the city and its periphery swarm with historical wonders.
Great Food
Since Antalya has such a rich history, its food culture is quite prosperous as well. The most dominant components of the food culture in Antalya are yörük (nomadic people of the area) culture and Mediterranean culture. Some of the most famous meals of the region's cuisine are Cretan kebab with artichokes, Alanya bundle, stuffed ribs, and banana dessert. In addition to great local cuisine, you can also find several Michelin-starred restaurants in Antalya.
Proximity to the Beach
Here's yet another reason for you to invest in Antalya Turkey real estate: Antalya is home to some of the best beaches in Turkey!
If you live in Antalya, you can go to one of these blue flag beaches that include Kaputaş, Kalkan, Damlataş, Cleopatra, and Finike for a weekend swim, or you can learn to dive in the crystal clear waters because Antalya is also one of the best diving areas in Turkey.
Best Neighborhoods in Antalya
There are many great districts to live in in Antalya. You can consider one of the following depending on your needs and what you're looking for in a neighborhood.
Konyaaltı
Located near the center of Antalya, Konyaaltı is 20 minutes from Antalya Airport. The district has seven kilometers of coastline. If you like long walks on the beach, this neighborhood is just the place for you. There are many restaurants, cafes, shops, and bars in Konyaaltı, and the district offers a vivid nightlife.
In addition to these perks, the transportation network in Konyaaltı is pretty well-established. It's easy to get around by using public transportation. If you prefer a more active life in an urban area, you can look for Antalya apartments for sale in the Konyaaltı district.
Muratpasa
Muratpasa is the central district of Antalya. The district offers perks of urban life, events, and activities, 20 kilometers of coastline, many tourist attractions, and natural beauties such as Duden Waterfall and Hadrian's Gate, all at the same time. Muratpaşa has a solid economic infrastructure that offers business and job opportunities.
Serik
If you're looking for a more tranquil area where you can find peace and quiet, you can check out Antalya homes for sale in the district of Serik. Serik offers a rural lifestyle away from the tumult and noise of the city. The district is at a location close to the Taurus Mountains. Hence, Serik has great nature and fresh weather.
For those who seek happiness in nature, Serik is the perfect place to relocate to and get into agriculture or do activities like collecting fresh herbs at the mountainside.
Lara Beach
Lara Beach is a district of Antalya that is close to the city center. Having a blue flag beach that stretches 12 kilometers approximately, Lara is one of the most favored neighborhoods of the city due to the abundance of its cafes, restaurants, and shopping centers.
There are also many playgrounds and theme parks in Lara, meaning that it's a great location for families. Those who seek an Antalya house for sale to move in with their spouse and children may want to consider Lara because it's close to the best educational institutions as well.
Belek
For people who are to enjoy their retirement or those who want to adopt a lifestyle that resembles a retirement dream, Belek is the perfect fit.
You can play golf, enjoy the wonderful beaches, or hop into the lively nightlife whenever you want if you live in Belek. The district is only a forty-minute drive away from central Antalya, in case you feel like going shopping or need to run an errand in the center.
Kalkan
Kalkan is one of the most popular places to live in Antalya. With their great design, perfect view of the Mediterranean, and modern architecture, Antalya villas for sale in Kalkan will blow your mind. Kalkan is composed of many neighborhoods, and each of these neighborhoods offers a different lifestyle. So there's something for everyone in the Kalkan district.
It's an excellent location for a profitable investment in Antalya Turkey real estate, as well as bearing many beauties of Antalya, not to mention the spectacular beaches.
Finding Property for Sale Antalya
All sorts of properties are typically listed on real estate websites in Turkey. You can check out the listing on these sites online, or you can get in touch with a real estate agency to help you out in your property search.
Another option for finding property for sale in Antalya is going for a physical property hunt because properties for sale in Turkey typically have a "For Sale" sign on them.
Useful Resources
How to Buy Antalya Homes for Sale
Below are the steps and some tips for buying property in Antalya.
Research thoroughly
Plan your budget
Start looking for houses for sale in Antalya Turkey
Hop on a plane and come to Turkey
Get viewing appointments for the properties you're interested in
Negotiate
Pay attention to details like the property being debt-free
Pay the deposit
Sign the contract
Get a tax number, the appraisal report, open a bank account, obtain the title deed
It's always in your best interest to work with a professional real estate agency. Although the opposite may seem less costly, hiring an agent protects you from potential scams and the like. It'll also allow you to deal with less paperwork and ease the process.
Speak to a Real Estate Professional in Antalya, Turkey
Get Golden Visa is a full-service investment immigration agency. We specialize in helping clients from all around the world apply for residency programs all across the globe, including citizenship and property acquisition in Turkey.
Contact us to get more information and speak to one of our experts to help you with your property search in Antalya.
Schedule a Call Now
Antalya House for Sale Prices
Prices in Antalya vary depending on the property type, size, and location. According to September 2022 data, the average price to buy an apartment in the city center is around $1,000 per square meter whereas it's $600 for an apartment outside of the city center.
Activities You Can Do in Antalya
Sightseeing (Old City, Duden Waterfalls, Aspendos, Perge, Olympos, etc. )
Outdoor activities (rafting in Koprulu Canyon, Quad biking in the Taurus Mountains, tandem paragliding, jeep safari in Tazi Canyon, and many more)
Sailing, scuba diving
Visiting theme parks
Taking boat trips
Apartment for Sale in Antalya Turkey: The Wrap-Up
Antalya is a great place to live with all the perks it offers. Whatever you're looking for, you may find it in this beautiful coastal city in the Mediterranean region of Turkey.
Buying property in Antalya, on the other hand, is an excellent investment opportunity that'll allow you to gain profit in the future If you decide to sell your property. What's even better is that you can get citizenship in Turkey by investing in real estate.
Go ahead and start your journey toward your dream life now. The best of luck to you in your property hunt!
Other Popular Locations in Turkey