Why Buy In Portugal?
Portugal has been a second home to many expats over the years. The enchanting coast, friendly community, and unparalleled climate have made Portugal on top of the list among destinations for relocation, work, and retirement. Lisbon, of course, shines out as one of the most affordable European capitals in the world. Lisbon has about half a million residents. Its small size and population give it a unique charm but don't for a second think that it doesn't offer all the comforts and amenities of a large bustling European city.
Many other destinations are trendy amongst expats, such as the cities of Porto, Amadora, and the charming coastal towns and villages which the Algarve offers. In a nutshell, Portugal has something to offer for any expat, whether they're looking for the electrifying energy of a larger city or the magic of a quiet rural oasis.
Homeownership In Portugal
Portugal has an unusually high number of homeowners standing at about 75% of the population, which is about 10% higher than the USA and the UK. A large number of foreigners have already settled or retired there, with many of them choosing to invest in a second home in the competitively developed Portugal real estate market.
So if you wish to move to Portugal and buy a second home there, or any kind of property, we've prepared a guide for you. So let's dive into the complete Portuguese property buying guide together.
Can You Buy Property In Portugal As A Foreigner?
The short answer is YES! One of the most encouraging qualities in Portugal is that there are no restrictions for foreigners who want to buy a home there. Actually, If you invest in property, which is worth more than 500,000 €, and if you're a non-EU citizen, you may also enjoy the benefits of a golden visa. In our buying property in Portugal guide, we're going to discuss market history, locations and legal steps for buying a property in portugal.
History And Overview Of The Property Market
Like the rest of the world, Portugal has suffered through some economic trouble in the past. The average value of homes reflected this by losing around 11% between 2011 and 2012. Luckily, after a low point in 2012, the market started to recover in 2013. A successful recovery occurred between 2013 and 2014, and the market began to grow steadily from 2015 onwards.
What is fascinating about any real estate market is how closely it mirrors the economy's strength. Back in 2016, Portugal's real estate market proved how strong the Portuguese economy is. Since then, Lisbon's real estate has been growing in value at a rate of around 2.4% to 2.6%. But that's not the most impressive market growth in Portugal, some areas such as Santa Maria da Feira have shown unprecedented growth of about 12%!
As you know, the secret with real estate purchases is location, location, location. For example, some areas in the real estate Portugal market didn't do as well growth-wise. The towns of Coimbra and Guimaraes exhibited a growth of only about 0.9%. In our next section, we're going to discuss property costs in various areas in Portugal.
Property Prices
What you will pay for a property in Portugal will differ dramatically depending on where you choose to buy. Choosing where to buy, of course, depends on your purpose of moving there. Retirees, for example, often pick somewhere Porto or Cascais, while young professionals prefer more urban places such as Lisbon.
In the table below you'll find the average price of various neighborhoods per m².
| District | City | Average Price per m² |
| --- | --- | --- |
| Baixa and Chiado | Lisbon | $7785 |
| Lapa and Santos | Lisbon | $5937 |
| Campo de Ourique | Lisbon | $5201 |
| Ribeira, Miragaia and Baixa | Porto | $4541 |
| Alfama | Porto | $5937 |
| Portimão | Algarve | $2557 |
| Cascais and Estoril | Cascais | $4718 |
| Carcavelos and Parede | Cascais | $3803 |
Where To Buy
If you're wondering whether to pay less and live somewhere rural or pay more and live in a bigger city, let us put your mind at ease. Let's take a tour of some Portuguese destinations and what the market looks like there.
Lisbon
Lisbon is the heart and soul of Portugal. Considered one of the cheapest European capitals, it increasingly draws investors and expats alike. Many tech companies and startups have started emerging in Lisbon, turning into a hub of life and economic prosperity.
The real estate market in Lisbon is a prime investment spot. The prices in some sections of the city, such as Avenida da Liberdade, Lapa, and Baixa Chiado, have increased in value dramatically recently due to massive demand. Yet, many buyers and investors are still turning their eyes towards this trendy area.
Of course, you can find some cheaper properties in areas that are a bit further away from the centre, such as Amadora or Benfica.
Many young professionals choose to live somewhere like Cascais or Estoril. It makes a lot of sense to be based there, as it is only 30 to 40 minutes from Lisbon by car and cheaper in terms of property prices.
Porto
This mystifying fishing town holds a unique mix of history and urbanism. Americans moving to Portugal often prefer Porto, primarily because it looks over the Atlantic and has some top-notch beachfront property.
The property market is showing promising growth, and it's both a tourist and a commercial hub, which is why it is considered an advantageous place for investment.
What's unique about Porto is that it offers various types of properties to choose from. You can, for example, choose the Foz Douro neighborhood, which boasts some of the best Atlantic beachfront property that you can ever find. On the other hand, if you're looking for commercial properties, you might want to check the Ribeira neighborhood.
The Algarve
Most foreigners who choose investing or buying property in Portugal are drawn towards the Algarve. The world-famous golden coast offers an extensive choice of properties, ranging from villas and luxury houses to apartments with ocean views.
The Vilamoura is renowned for luxury homes and villas, making it the most expensive area in the Algarve. Places like Lagos and Albufeira also happen to be on the higher end of the price spectrum. In rural areas like Alcoutim or Monchique, you can find some cheaper opportunities. Remember that it's never a bad idea to invest in the Algarve, as it has never failed to grow as a touristic and economic pillar in Portugal.
The Silver Coast
Many people don't know that the Algarve is not the only region in Portugal with fantastic beaches and magical coastline. The silver coast, which is situated between Lisbon and Porto, also has some incredible pristine beaches and properties.
If you want beachfront property but are unwilling to pay the Algarve's high prices, then areas in the silver coast such as Tomar, Peniche, Obidos, or Nazare are for you.
Types Of Property In Portugal
Portugal is a very well developed country, and its real estate market is just as advanced. The apartments throughout Portugal range from studio-apartments to five-bedrooms or bigger. When buying property in Portugal, There are different terms that you need to know:
A Casa or Moradia refers to a typical detached home. Some of those houses have surrounding amenities such as a backyard or a patio, and most of them have a wall around them with a front gate.

A Casa Geminada refers to a semi-detached house.

Condomínios or condos refers to individual apartment buildings that share common areas. These can be expensive, but they offer a higher standard of care and safety in return.

Quintas refer to classic rustic houses or farms. You can usually find those in the inland of the country, though some are in suburban areas.

Terreno means land. Some foreigners choose to buy land and build their own homes. If you choose to do so, you must first check with the city hall (

Câmara Municipal)

to ensure that the land is registered for habitation, not agricultural purposes.
Apartment Terminology
When looking for an apartment in Portugal, you might find confusing numbers next to the ads such as T0, T1, T2, and so on. These numbers actually signify the number of rooms, so that T2 would be an apartment with two bedrooms and full amenities. T0 means a studio apartment. Sometimes you might notice a +1 next to the name, like T2+1; this means that this is a two-bedroom apartment with an extra windowless room.
Where To Find Property In Portugal
When buying a property in Portugal , It's always a good idea to consult an experienced real estate agent. In Portugal, these are referred to as imobiliaria. There is a license number given to estate agents by the Portuguese Association of Real Estate agents. (Associacao de Mediadores Imobiliarios). If you want to check whether your agent is registered, you can do so by visiting this website.
Remember that there are no agent fees in Portugal because estate agents there work on a commission basis. The professionals here at Get Golden Visa can help with this through our Portugal portal.
The local papers also include property advertisements, such as:
Diário de Notícias
Jornal de Notícias
Correio da Manhã
Consult A Professional
If you are looking to buy a property in Portugal, expert advice may save you time and money, bringing peace of mind along the process.
Our team in Portugal possesses the professional real estate license. You can fill out the below form to have a free consultation session and discuss the available options.
Get in Contact Now
Step By Step Guide To Buying A House In Portugal
Now that we have covered the real estate market and where to look for a property, we will walk you step by step through the process. First and foremost, you'll need to acquire a Portuguese Tax Number (NIF). You can obtain this at any government finance office, and you can find more info on acquiring the NIF here.
After you have found a place that suits you, and have had a successful house visit, here's what you will need to do: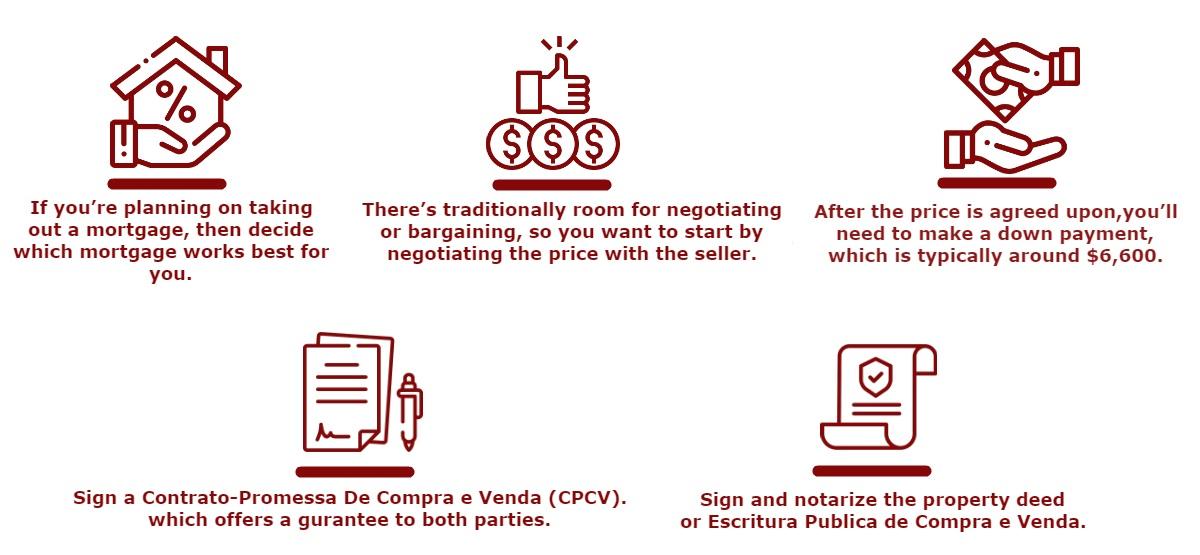 What Is Required to Buy Real Estate in Portugal as a Foreigner?
To sign the sales contract, you'll need to have a notary witness. You also might need a Portuguese tax number which you can get at any local tax office. You will also need the following documents: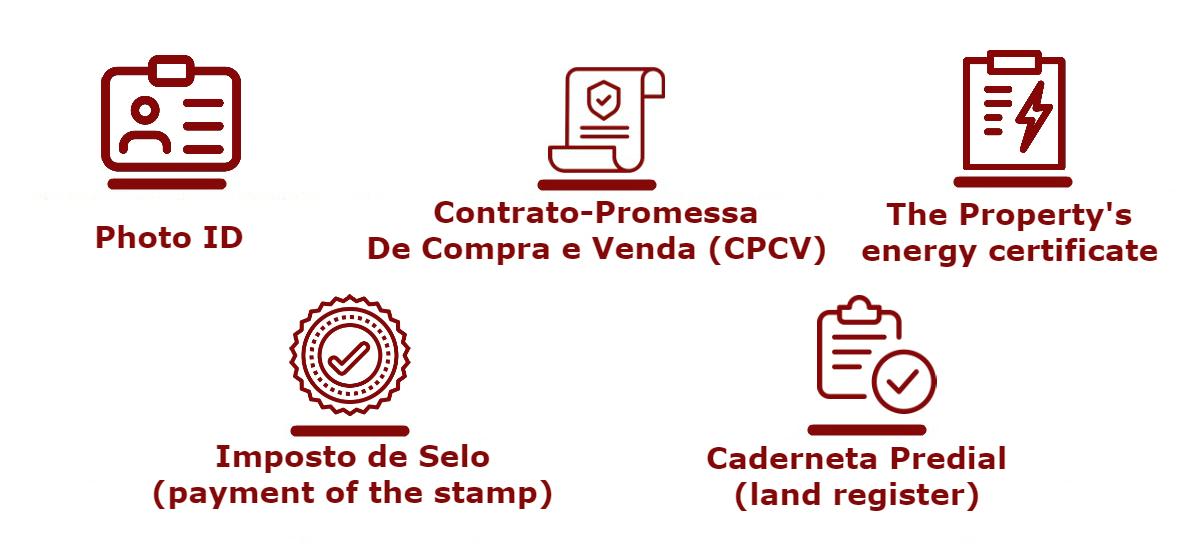 Mortgages And Down Payments
It's always smart to sort out your mortgage early in the buying process so you can know how much you can afford and work out the monthly payments. There are many things to consider when it comes to mortgages.
What Are The Lending Terms?
To boost the economy, many major Portuguese lenders happily provide mortgages to suitable individuals, including foreigners, who wish to invest in Portuguese property.
Most banks provide loan terms for up to 50 years if you're a resident. That number goes down to 30 years for non-residents. However, there is a maximum age upon maturity of the loan, which varies between 70 and 80, depending on the mortgage provider.
What About The Deposit Or Down Payment?
Depending on the lender, the borrowing can start from 60% of the property value to 80%. Which is why you'll need a minimum deposit of 20%. You can choose from different types of mortgages, with variable or fixed rates as your options.
Variable Rate Mortgage
The European central bank (Euribor) sets a margin linked to the increase or decrease of the interest rates of a Portuguese variable rate mortgage. A panel of European banks set the rate daily, and it is, in general, an indicator of the rate that European banks will lend to each other.
There is an early redemption penalty of 0.50% for a variable rate mortgage, which is the Bank of Portugal's regulation.
Fixed-Rate Mortgage
The fixed-rate mortgage allows you to budget better as the rate will not increase for the duration of the fixed-rate period, which can change from 0 to 30 years. After that, your mortgage will immediately become a variable rate one, unless it's specific in the agreement that the rate for the entire period of the loan.
There is an early redemption penalty of 2% for a fixed-rate mortgage, which is the Bank of Portugal's regulation.
How Do I Qualify For A Mortgage?
There are two criteria that the banks check out when processing your mortgage request: Your financial position and your property evaluation.
Financial Position
To assess your financial position, the bank will require proof of your income or earnings, such as:
Salary income

Income from investments

Pension income

Dividend payments

Rental income
The bank will assess each applicant's net income; additionally, they will ask for information about any pre-existing debts and your employment history. This information is to assure the lender that you can make the monthly payment on your mortgage.
Property Evaluation
The bank will hire an engineer to evaluate the property you decided to purchase. The Portuguese banks currently lend between 60-80% of the property value.
Required Documents For Mortgage
There is a range of documents required to apply for a mortgage:
A copy of your Passport

A copy of the Portuguese Tax Number (NIF) copy

Proof of address, for this, the recent utility bill works

Your credit report

Any recent payslips

Any recent bank statements

Your most recent tax return

A copy of the tenancy agreement
Acquiring Home And Life Insurance
Home and life insurance are required by law in Portugal when applying for a mortgage loan.
Taxes And Fees
The main cost that you will have to pay is the IMT transfer tax. This tax varies vastly depending on your situation; it can go as high as 10% for non-residents in a tax haven, or as low as zero for those buying cheap property as a second home. It's smart to discuss this with a professional to know what the costs will be like according to your situation.
As we mentioned earlier, there are no agent fees, those are taken care of by the seller. But there are some fees and taxes that you might have to pay such as:
Imposto Municipal Sobre Transmissões (IMT) or the Property transfer tax: This tax depends on the cost of your home, and will be higher if the property you're buying is a second or third home.

The fees of the land registry and the notary: You pay these together, and they usually cost from 0.2% to 1.2% of the property value.

The Stamp Duty: This stands at 0.8% of the value of your home.

Frequently Asked Questions
Can US Citizens Buy Property In Portugal? Can British Buy Property In Portugal?
There aren't any restrictions on foreign property ownership in Portugal. The government encourages foreign ownership of property there.
Do I Need A Lawyer When Buying A Property?
Yes, it is advisable. An independent lawyer will act on your behalf and in your interest only.
What Documents Do I Need To Acquire Property In Portugal?
Make sure to have your Portugese tax number which you or your lawyer can get at the local tax office, in addition, you should make sure you have the following documents:
A photo ID from both parties.

The

Contrato-Promessa De Compra e Venda

(CPCV), if available.

The property's energy certificate.

The

Imposto de Selo

or (payment of the stamp)

The

Caderneta Predial

(land register)
What Are The Additional Fees When Buying A Property In Portugal?
This varies depending on the property you purchase. However, for private property, the total purchase cost should be between 7% and 10%.
Why Buy Property In Portugal?
Portugal is becoming an increasingly popular place to buy property, whether for relocation or investment. The small Western European country has a high quality of life yet low costs of living, a pleasant climate, and a steady economy.
Is Portugal A Good Place To Invest In Property?
The real estate market in Portugal is inexpensive compared to other Western European capitals. In recent years, it has seen a period of steady growth, which makes it an excellent place to invest.
Is Property Cheap In Portugal?
The price of buying property in Portugal varies widely, but it is cheaper on average than in other countries in Western Europe. See the price sections in our how to buy property in Portugal guide above.
Can Foreigners Buy Property In Portugal?
Yes, foreigners can purchase property there, provided they have all of the correct documentation.
Is Buying Property In Portugal A Good Investment?
Buying a property to rent in Portugal could be an excellent financial investment. It is worth it now because there is more demand for accommodation than is currently available, especially in Lisbon and Porto. Also, rental yields during peak tourism season make property rental there a viable investment.
Is It A Good Time To Buy Property In Portugal?
When Portuguese banks are once again more willing to offer mortgage loans for the purchase of property, this may be an excellent time to buy. … First, though, it is worth remembering that the latest figures show that buying a property there is certainly more expensive now than before.
Do Expats Pay Taxes In Portugal?
If you are a non-resident in Portugal, you will only be taxed on Portuguese income, while residents have to pay an international tax. You are considered a resident if you reside for 183 days or more within a consecutive 12 months.
Is Property Cheaper In Spain Or Portugal?
According to the web portal Numbeo, consumer goods in Portugal are 12% cheaper than in Spain on average, and restaurant prices are 32% lower. Meanwhile, Spain is less expensive than many European countries.
How Much Deposit Do I Need To Buy A House In Portugal?
A 20% Deposit. For a Portuguese mortgage, you will generally need a minimum deposit of 20% of the property's price, because the borrowing varies from 60% to 80% of the price or valuation price, depending on the lender, with loans available on a variable rate or fixed rate basis.
Is There Property Tax In Portugal?
As an owner of a property in Portugal, you'll need to pay the property tax, also known as the Immovable property tax (IMI). Each individual municipal has its rate and is set by the municipal assembly. … The Tax rates range from 0.3% to 0.45%.
Is There A Wealth Tax In Portugal?
Rates are 0.4% for properties held by companies, 0.7% for individuals, and 1% for those whose share in Portuguese property goes over €1 million. There is a €600,000 allowance deducted from the value of all Portuguese properties owned by individuals, but not companies.
What Are The Steps To Buying A House In Portugal?
If you're planning on taking out a mortgage, then decide which mortgage works best for you. Keep reading this article for more info on mortgages in Portugal.

There's traditionally room for negotiating or bargaining, so you want to start by negotiating the price with the seller.

After the price is agreed upon, you'll need to make a down payment. The down payment will ensure that the property is reserved and is typically around $6,600.

We advise you here to sign a

Contrato-Promessa De Compra e Venda

(CPCV). It's not exactly a mandatory document, but it does offer both parties a guarantee while you wait to sign the deed. For example, if you're waiting on mortgage approval or construction.

For the last step, you'll need to sign and notarize the property deed or

Escritura Publica de Compra e Venda.