Your Guide to Portugal Golden Visa
At Get Golden Visa, we worked with investors and families from all over the world interested in getting a Golden Visa in Portugal.
Contact us and speak to our independent advisors who can assist you with all questions regarding Portugal Golden Visa changes and available investment options.
---
The long-awaited Portugal Golden Visa changes came into effect on the 1st of January 2022.
Key Takeaways
Required Golden Visa minimum investment amounts increased:

Investment Fund option increased from €350,000 to €500,000
Capital Transfer option increased from €1 million to €1.5 million

Portugal Golden Visa through Real Estate face restrictions:

For real estate properties to qualify for Golden Visa, they have to be located in the Autonomous Regions of the Azores and Madeira or in the interior territories, identified below.
This is it in a nutshell. For further details, check out the rest of the article.
What You Will Find in This Article
Golden Visa Portugal Suspended Changes Came Into Effect in 2022
The proposal in February 2020 provided the government with the mandate to change the rules. The Portuguese government went ahead and used its right to change the rules in February 2021. The new rules came into effect in 1st January 2022.
Portugal Golden Visa Changes 2022
Real Estate Changes After the Changes to Portugal Golden Visa
The changes limit the locations where you can invest in a property for a Golden Visa. The minimum investment amounts remain the same, while there are geographical restrictions on the qualifying areas.
You are no longer able to get residential property in major cities such as Lisbon or Porto or in coastal towns of the mainland.
Only the property investments inland and possibly rural or low-density areas are eligible.
Here is a document that lists all the eligible areas (pages 2-4). Also, see the map below for eligible areas.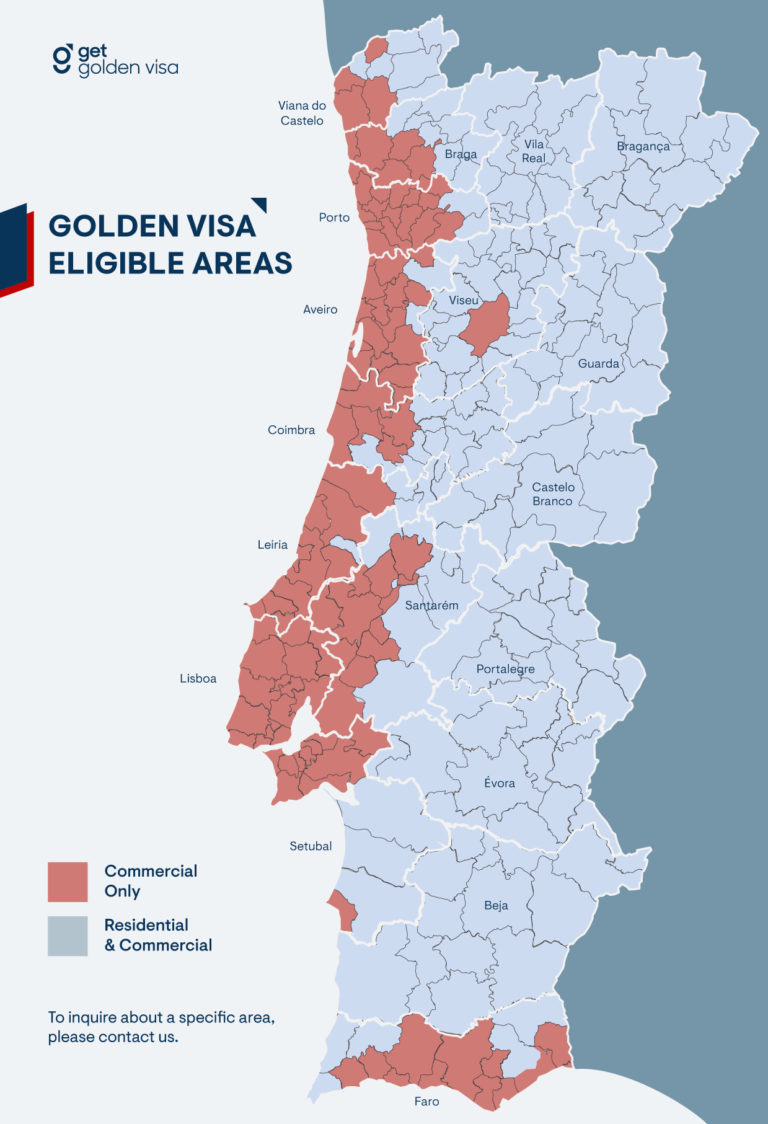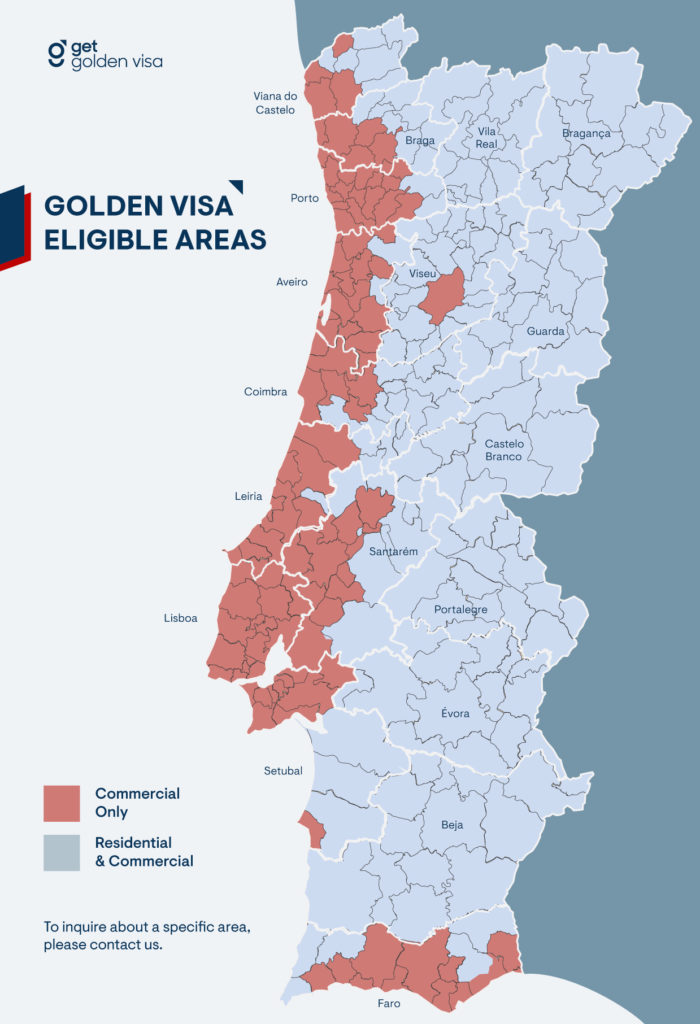 Capital Transfer Changes
The minimum investment amounts were increased, both for monetary and for the number of jobs.
Capital transfer amount increased from €1 million to €1,5 million
Investment Fund minimum subscription amount increased from €350,000 to €500,000
Research and Development amount increased from €350,000 to €500,000
Job and Company Creation: minimum incorporation amount increased from €350,000 to €500,000; the number of jobs remain at 5
When Did Portugal Golden Visa New Rules Come into Effect
The changes came into effect as of January 1st, 2022.
2021 Minimum Amount Required
As of 2022 Minimum Amount
Required
Capital Transfer
€1 million
€1,5 million
Investment Funds
€350,000
€500,000
Real Estate
€500,000 / €350,000 (urban renovation)
Amounts remain the same; geographical restrictions will apply. Residential properties in Lisbon,
Porto, or along the coast won't qualify
Job Creation
€350,000 incorporation amount
€500,000 incorporation
amount
Science and Research Activities
€350,000
€500,000
---
What Should Investors Expect From Portugal Golden Visa Changes 2022?
The initial response from stakeholders is negative. Yet, the changes are not necessarily good or bad. It appears the revision of the program may boost the alternative investment routes. The interior regions of the country will likely receive more investment.
What Did Not Change?
The below investment options did not change:
To launch a company in Portugal and employing at least 10 new local employees,
€250,000 contribution in arts
Will Previous Or Current Applicants Be Affected?
No. The changes will not be retroactive to anyone who submitted a Golden Visa application before December 31st, 2021.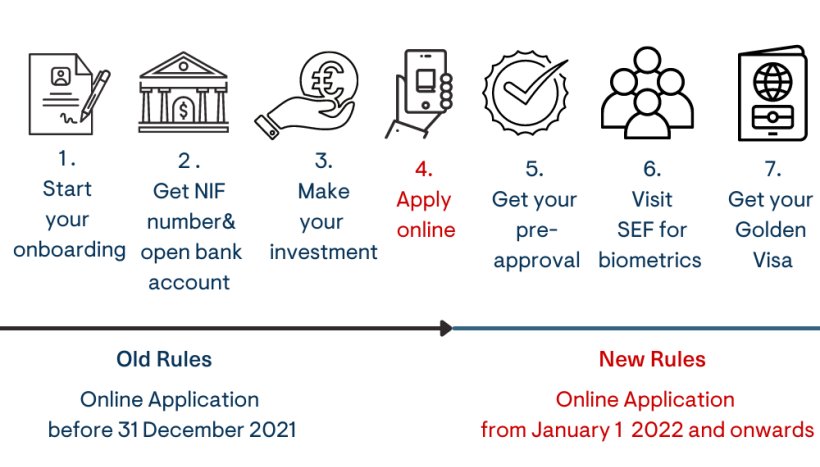 ---
Get in Contact
Frequently Asked Questions on Portugal Golden Visa Changes
Will the Portugal Golden Visa program be canceled?
No, the Portugal Golden Visa Program will not be canceled. The revisions are going to be implemented into the existing scheme. There will not be major structural changes in the proceedings of the program. You can find the details in this official declaration.
Will the changes affect existing applications or current Golden Visa holders?
The changes will not work retroactively. The existing applications will be evaluated following the format of the application date. People who already have their Golden Visas will not be affected in any way.
Will all types of real estate acquisitions be affected by the changes?
No. The geographical restrictions only affect residential property purchases. Any other type of real estate property can still be acquired anywhere in Portugal and qualify for a Golden Visa.
When did the changes take place?
The changes came into effect on January 1, 2022.
How Can Get Golden Visa Help
Get Golden Visa is a full-service investment immigration agency. We provide end-to-end solutions on residence and citizenship by investment programs in numerous countries worldwide.
We have local offices in Lisbon and Porto, Portugal. We have legal professionals, as well as licensed real estate professionals within our team.
We work with clients from all around the world, interested in obtaining Portugal Golden Visas or in making real estate investments in Portugal.
Contact us and talk to one of our experienced team members to help you with any and all your questions.
Get in Contact