Having helped many to acquire their dream homes in Turkey at Get Golden Visa until now, our independent real estate advisors now await you to accompany your journey.
If you're planning to buy a property in Fethiye, contact us to initiate the process by getting full-on assistance from our team of professionals.
This guide includes:
Fethiye Real Estate
---
Fethiye in a Nutshell
Region: Aegean
Population: 170.379
Area: 3.059 km²
Distance from Main Airports: 55 km
---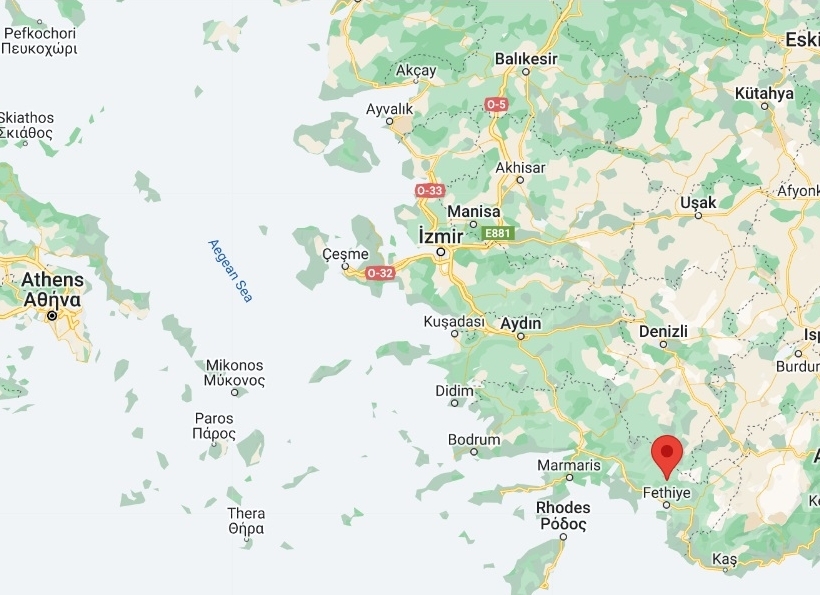 Perks of Buying Fethiye Property
Great Place To Live
Fethiye offers a great climate, wonderful nature, golden beaches, a cosmopolitan atmosphere, a prosperous heritage, and the opportunity to travel: all these at the same time. It blends the modern and the traditional, bringing about a fascinating culture and an enjoyable lifestyle.
Low Cost of Living
The cost of living in Fethiye is noteworthily low, considering the high standard of life the area offers.
A Wide Range of Property Options
There are many property options in Fethiye, ranging from very affordable apartments for sale in Fethiye Turkey, to luxurious villas. This variety gives a chance to small-scale investors with limited budgets to obtain their dream homes as well.
Excellent Investment
With its glowing touristic charm, growing economy, expat, and foreign investor community, Fethiye is proving to be a perfect place to invest in real estate to retrieve a highly profitable return in the future if you decide to sell your property. You can also lease it out as a holiday rental and receive a solid income.
Turkish Citizenship by Investment
The best part of buying a house in Fethiye is that when you purchase property that's worth at least $400,000 in Turkey, you become eligible to apply for Turkish citizenship, which comes with many other advantages.
Best Neighborhoods in Fethiye
Fethiye Town Center
Right at the heart of Fethiye is the best place to live for those who want to have easier access to social amenities such as shopping centers, transportation, schools, and healthcare facilities. As one of the best towns on the Turkish riviera, Fethiye Center also offers a vivid nightlife and acts as the sailing hub of the region.
The town center offers the opportunity to take the ferry to Rhodes Island as well as historical sights to explore at Paspatur, the town's old part from the Ottoman times.
Faralya
Faralya is a small village that's home to one of the best coastlines in the region. For those who want to live in a more secluded neighborhood, Faralya is a great destination with its brilliant sea, stunning nature, and Roman ruins. There's not an abundance of housing options available in Faralya. However, the scenery is always magnificent.
Ovacik
Ovacik doesn't have a golden beach. However, it's a small hillside village much-favored by the expats and families. Large villas constitute most of the property for sale in Ovacik. If you're looking for a mesmerizing view of the Taurus Mountains and an expat network to join, you might as well start looking for a villa for sale in Ovacik, because it's probably the perfect fit for you. Moreover, Ovacik is only four kilometers from the sandy beach of Oludeniz.
Kayakoy
Located eight kilometers from the center, the village of Kayakoy offers only splendidly renovated traditional houses because it's forbidden to build new residences. These renovated Greek houses, however, are a great attraction for many investors from all around the world.
While Kayakoy is a sight for sore eyes with its stunning forests and landscapes, it's also a blessing to the palate with its great food and drinks. The village is also home to a ghost town by the same name.
Uzumlu
Uzumlu is a mountain district located 30 minutes from the Fethiye town center. Those who search for property for sale in Uzumlu are usually looking to buy land to build their own villas. If you're planning to buy a villa for sale in Fethiye Turkey, you may also want to consider buying land and building on it yourself, which will cost you much less. What's even better about building your own house is that you can make it just the way you want it to be.
Seydikemer
Seydikemer is a peaceful rural town that's 30 minutes from the Fethiye town center. The Esen river goes through the town that has s spectacular nature.
Seydikemer is not yet an expat or tourist hub but it offers a promising future as well as great tranquility. Moreover, property prices in Seydikemer are very convenient.
How To Find Property for Sale in Fethiye Turkey
Fethiye Turkey real estate for sale is generally listed online by real estate agencies or the property owners themselves. You can check real estate websites to find Fethiye homes for sale, or get in touch with a real estate agent to guide you in your property search.
Another way of finding homes for sale in Fethiye Turkey is to stroll in the neighborhoods you're interested in, looking for "For Sale" signs on the windows of the buildings.
We strongly recommend hiring an agent for the process to eliminate the possibility of coming across scammers.
Useful Resources
The Process of Buying Property for Sale in Fethiye
The process of buying Fethiye property is quite effortless. You just need to follow the steps listed below:
Doing extensive research beforehand
Planning your budget well
Starting the search for houses for sale in Fethiye
Coming to Fethiye
Getting in touch with a real estate agent
Making appointments for property viewings
Negotiating
Making the deposit payment
Carefully reading each item and signing the contract
Getting a tax number
Obtaining the appraisal report
Opening a bank account
Acquiring the title deed
Contact a Real Estate Professional in Fethiye
At Get Golden Visa we offer thorough services to assist our clients' investment immigration process. We aim to help investors acquire property and obtain residency/citizenship all around the world.
Reach out to our team of experts to get assistance for your property search in Fethiye.
Schedule a Call Now
Fethiye Real Estate Prices
House prices in Fethiye vary depending on the characteristics such as the type and size of the property and the neighborhood it's located in.
The average price per square meter for the apartments for sale in Fethiye Turkey that are located in the city center is $1,879 whereas it's $1,611 outside the center.
Activities You Can Do in Fethiye
Fethiye is a place where you can stay active all year round: it offers countless outdoor activities as well as sightseeing or family activities.
Here are some of the things you can do in Fethiye:
Paragliding in Oludeniz
Going on a boat trip to the most beautiful beaches and valleys of Fethiye
Trekking the Lycian Way
Seeing Saklikent and Tlos Ancient City
Kayaking at the St Nicholas Island Sea
Wandering around the Old Town of Fethiye
Going on a jeep safari
Visiting the ghost village of Kayakoy
Houses for Sale in Fethiye: Conclusion
Buying property in Fethiye is a very wise long-term investment due to the area's touristic appeal as well as investment-wise charm. In addition to the financial perks, living in Fethiye allows you to enjoy many benefits at the same time: the natural beauty, rich culture, brilliant beaches, and many more. Take the first step toward your dream life in a house with a stunning sea view, and get in touch with our team at Get Golden Visa.
Other Popular Locations in Turkey