Your Guide to Spain Golden Visa
At Get Golden Visa, we work with investors and families from all around the world and help them obtain a Golden Visa in Spain
Contact us and speak to our advisors who can assist you with your inquiries about Spain Golden Visa.
As many other European countries did, Spain also introduced its Golden Visa program which aims to help the country's economic welfare. Different than the Gold Visa Cards, Golden Visa is the right to residency in a country, and it provides visa-free travel into that country.
What You Will Find in This Article
What Is Spain Golden Visa?
Spain is in the EU since 1985 and in the Schengen area since 1995. The country's high standards of living and developing economy are the factors that make it an attractive option for relocation. Both families and businesses nowadays treat Spain as an important candidate for future investments.
Especially for non-EU nationals who want to pursue their career or life goals in Europe, Spain Golden Visa Program is a great option. It allows one to reside, study, and work in Spain. In addition, it may also lead to permanent residency, and eventually citizenship.
After five years of temporary residence, you may apply for permanent residency in Spain. Following 10 years of permanent residency, you may apply for citizenship through the process of naturalization, provided that certain criteria are met.
Eligibility Criteria for the Spain Golden Visa
There are several investment options in Spain Golden Visa Program. You may choose to invest either €500,000 in property, €2 million in Spanish Government Bonds, or €1 million in shares in Spanish companies.
Apart from the financial requirement, you're required to be at least 18 years of age and possess a clean criminal record and a private or public health insurance policy.
Detailed criteria:
You're over 18

You're not an illegal resident of Spain

You don't have a criminal record in the last five years

You're not on the list of undesirable people

You have private healthcare to cover your stay

You're able to prove sufficient funds to live on without working in Spain

You've not been rejected for residence from certain other countries or from Spain

You don't have any of the illnesses according to a 2005 regulation
Investment Options of Spain Golden Visa
To be able to obtain the Spain Golden Visa, there are several routes that you may follow:
| | |
| --- | --- |
| Investment Type | Amount |
| Real Estate Investment | €500,000 |
| Business Development | €1 million |
| Capital Transfer | €1 million |
Real Estate Investment Option
This route requires you to invest a substantial amount into Spanish real estate. The designated amount of the program is €500,000. You can opt for a residential or commercial property or a combination of both. The property involved may be rented out. Different buyers may also combine their investment into one property, and any amount exceeding the minimum investment may be mortgaged out.
Business Development in Spain
This route to Spain residency by investment more directly aims to aid the Spanish economy. If you choose this option, 1) you must create employment 2) the investment needs to have a socio-economic impact on the country 3) contribute to scientific/ technological innovations. The minimum investment requirement of this option is €1 million.
Capital Transfer
You may also opt to invest a substantial amount in Spanish Treasury Bonds to benefit from Golden Visa program Spain. Because of these bonds' financial security, this option is quite popular among the applicants. Treasure Bonds are backed by the government. It represents a relatively safe form of investment, with which you can get competitive returns. The minimum investment requirement of this option is €1 million. Otherwise, you may invest a minimum of €1 million in shares in Spanish companies or bank deposits with a Spanish financial institution.
Business Projects in Spain
The projects that will be deemed proper for Golden Visa Spain must meet the following criteria:
When it can be argued that it will be a motor of job creation.

When the investment is expected to make a positive social or economic impact in the geographical area of the investment.

When it represents a significant contribution to scientific and/or technological innovation.
There are currently more than 3,000 start-ups in Spain in which to invest. With the aim of promoting these projects, the government has implemented tax changes that favor investment in these companies. This option requires special care because of its legally complicated procedures. Therefore, it is highly suggested to go through the process with the help of an agent.
Spain Golden Visa Application Process
Spanish Golden Visa process is fairly straightforward. Here is a quick rundown of the essential steps.
Step 1: First, you choose your favorite investment option. The investment options are stated above under the heading of "Investment Options of Spanish Golden Visa". Also, our team of Golden Visa experts can help you assess the investment options.
Step 2: After you make your decision, you prepare and submit the application for Schengen Visa.
Step 3: At this stage, you visit Spain to provide the authorities with the required biometric data. This part of the process usually takes around two months to complete.
Step 4: The final step of the application process is to wait for the result of the authority reviews. The process of approval or rejection usually takes around 20 days.
Step 5: Get your Spain Golden Visa and start enjoying its benefits.
---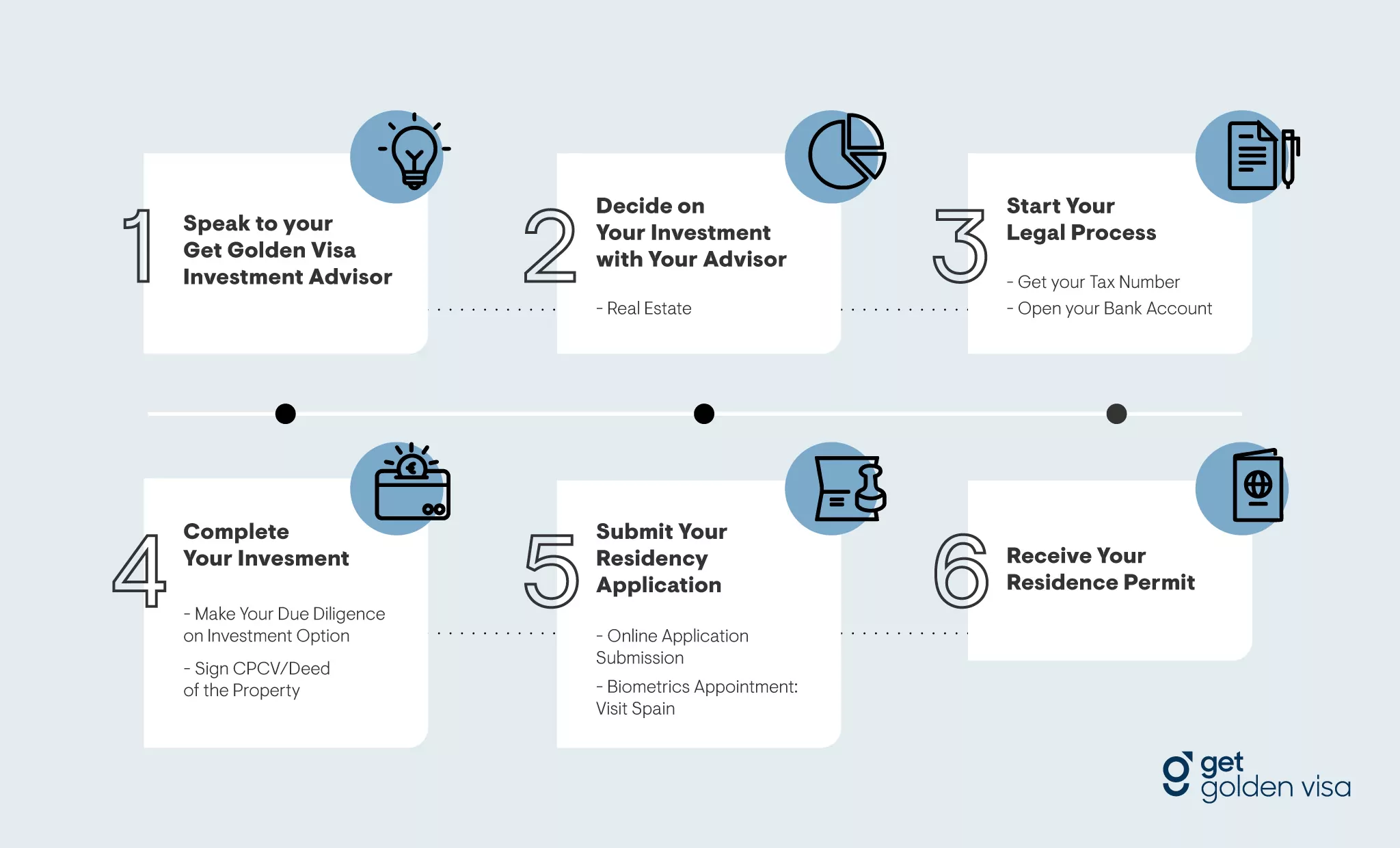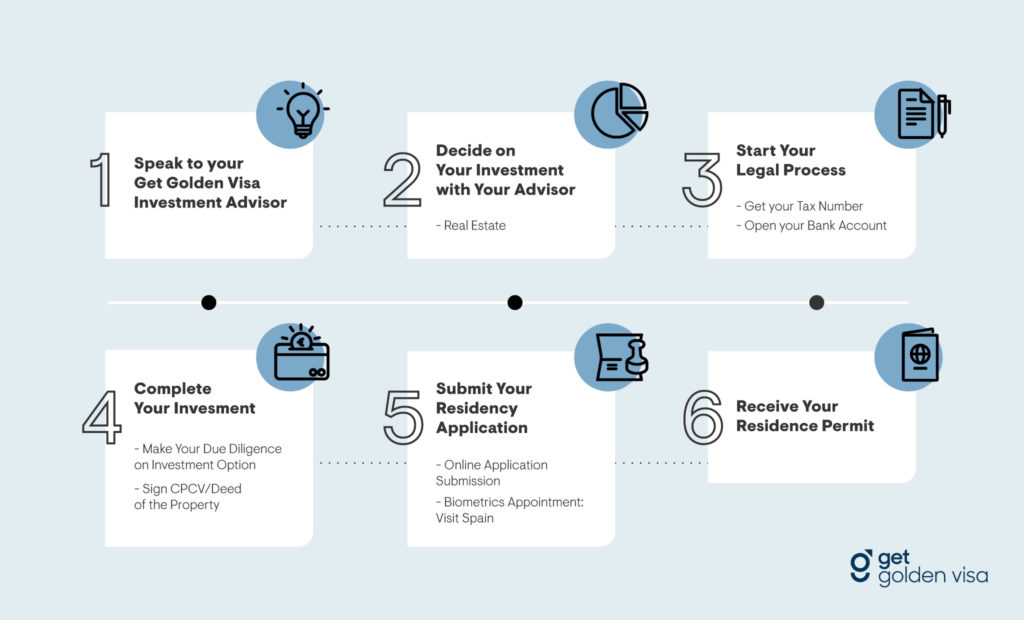 Required Documents for Golden Visa in Spain
In order to apply for a residency visa it is necessary to supply certain documents in addition to the application form:
1. A valid passport that is valid at least for one year
2. A document confirming that there are sufficient funds to cover living during the time
3. Document confirming that you're covered by medical insurance
4. Document issued by the relevant authorities which confirms the schooling of your children (if applicable)
All of these documents must be translated into Spanish and legalized.
Opening a Bank Account and the NIE Number
NIE, or Número de Identificación de Extranjero, is translated as the Foreigner's Identification Number. The Spanish NIE number is a tax identification number. It is used for many activities regarding the Spanish taxation system or real estate. It is used when paying taxes, making official purchases, and going through other legal or official activities. It is used in all fiscal transactions that involve the Spanish tax office. A NIE number is mandatory for all foreigners with financial, professional, or social affairs in Spain. It is best to have an NIE number as soon as possible even if there is no permanent residency required.

Non-EU citizens typically receive their NIE application along with their Spanish residency. Spanish NIE number is required for numerous actions such as:
Opening a bank account

Being legally employed

Paying taxes in Spain

Buying or selling property

Buying or selling motor vehicles

Becoming self-employed

Registering a business

Inheritance

Studying in Spain

Getting a Spanish driver's license

Arrange utilities
Submitting the Application for Golden Visa to Spain
In general, the authorities have a period of 20 days from the submittal date in which to process the application. If the authorities do not reject the application within that time then the application is automatically granted.

In some situations, obtaining a Golden Visa in Spain might take up to 10 months.
Spain Citizenship by Investment
Spain Golden Visa is a residency by investment program which offers investors residency in Spain in return for an investment. It's not a direct route to citizenship. However, if you get your Golden Visa and decide to live in Spain, you might be eligible for citizenship after 10 years.
However, there are certain criteria that need to be met to acquire citizenship in the country, such as renouncing your original citizenship. This is why speaking to professionals and lawyers will be useful before you make a commitment.
Spain Golden Visa Renewal Process
The initial Golden Visa that is granted lasts for a year. You may choose to extend the validity for up to 5 years. After 5 years, you may apply for a permanent visa.
In order to be able to extend the Residence Visa:
You must have a current Investors Residence Visa or one that has expired no more than 90 days earlier,
You must have visited Spain for at least a month during the previous year,
Your investment must still be in place,
You must still satisfy the visa requirements that allowed you to obtain a residence visa in the first place.
Golden Visa for Spain Benefits
Traveling Advantages
Spain, as a member of the EU and the Schengen area, grants visa-free travel to many countries. Considered "Schengen" countries are: Spain, Austria, Belgium, Czech Republic, Denmark, Estonia, Finland, France, Germany, Greece, Hungary, Iceland, Italy, Latvia, Liechtenstein, Lithuania, Luxembourg, Malta, The Netherlands, Norway, Poland, Portugal, Slovakia, Slovenia, Sweden, and Switzerland.
Education
Spain Golden Visa Program includes the residence of your family. Many investors choose their programs regarding the education of their children. As an EU member country, Spain offers a wide spectrum of schools that cater to the international members of the society.
Retirement
There are many pension schemes to choose from in the Spanish financial market and Spain is famously a great place to retire.
Other Golden Visas
Frequently Asked Questions About Golden Visa for Spain
What is a Golden Visa in Spain?
It is a new type of residence visa, established by the Law 14/2013, of the 27th of September, aimed at those non-resident foreigners who want to enter the Spanish territory in order to carry out significant capital investment.
Which are the types of Golden Visa in Spain?
The law distinguishes two big groups. The capital investments (in public debt, social shares of Spanish companies, bank deposits in Spanish financial entities, and the acquisition of real estate assets) and other kinds of investments (creation of a company of general interest, high qualified professionals, and transactions within the same company).
Does the Golden Visa authorize me to circulate freely within the Schengen area?
Yes. Spain investment visa authorizes to circulate freely within the "Schengen" area (Spain, France, Germany, Austria, Belgium, Denmark, Estonia, Finland, Greece, Hungary, Iceland, Italy, Latvia, Lithuania, Czech Republic, Liechtenstein, Luxemburg, Malta, Netherlands, Norway, Poland, Portugal, Slovenia, Slovakia, Sweden, and Switzerland).
Can I keep their tax residence outside Spain?
Yes. You can keep your tax residence outside Spain, as long as you stay in Spain for a period less than 183 days per year. Also, the residence permit can be renewed even with absences longer than six months per year.
Does the Golden Visa authorize me to work?
Yes. The Golden Visa authorizes you to live and work in Spain.
How long can I stay in Spain with the Golden Visa?
The residence visa authorizes you to stay in Spain for one year. Once this period is expired, a residence authorization can be requested for a period of two years, renewable for two more years if you prove the maintenance of the investment.
Is the €500,000 per applicant or per application?
Per applicant, but you can also include your companion relatives, who can jointly and simultaneously or successively request the authorization and, in case, the visa. Nevertheless, they have to fulfill the general requirements and prove the relationship bond through their corresponding certificates.
Can I buy more than one property for a Spain investment visa?
Yes. The reference to real estate assets made by the law does not mean only one property and not only one type of property. In any case, the investment has to be carried out before requesting the visa.
At the termination of the maximum period of five years, can I request long-term residence?
It can be requested, but will not be granted automatically at the termination of the investor's permit. In this case, the continuity of the residence in Spain should be proven for the acquisition of the long-term residence.
What requirements do I have to comply with to access the long-term residency?
In order to access the long-term residency, it is required that you have lived legally and effectively in Spain for five years. That the residency is effective means that the periods lived out of Spanish Territory must be less than six consecutive months and not exceed a total of ten months during the said five years.
Does the time period of legal residency in Spain count at the time of requesting the nationality?
Yes. The time lived in Spain legally will count to request the long-term residency and also the nationality.
Can I access directly to the residence authorization for two years without having to obtain an investor's authorization?
No, it is necessary to have the investors' authorization which is valid for one year. During this year, the residence authorization can de requested at any moment without having to wait to complete the year.
Is Spain citizenship by investment possible?
Spain Golden Visa program isn't a direct route to citizenship. However, if you live in Spain for 10 years and meet the criteria, you can be eligible for citizenship.