Your Guide to Buying Property in Mykonos
At Get Golden Visa, we helped many people buy their dream homes in Mykonos. Now, we're happy to help you along your journey.
Contact us to schedule a meeting with our independent advisors who can assist you with your property search in Mykonos, Greece.
Mykonos is known for its postcard-perfect beaches and turquoise waters. It's no wonder why so many people want to live here, especially in the luxury category where about 30 percent are foreigners. The allure among investors can't be beaten either; with an unparalleled view and nightlife, it's hard not to want your piece of paradise on earth too.
Buying a House in Mykonos
Real estate in Mykonos is an excellent financial investment with high growth possibilities. The tourism industry plays a prime role in how this island develops. In the next few years, Mykonos will continue to emerge as one of the most popular destinations in Greece and Europe.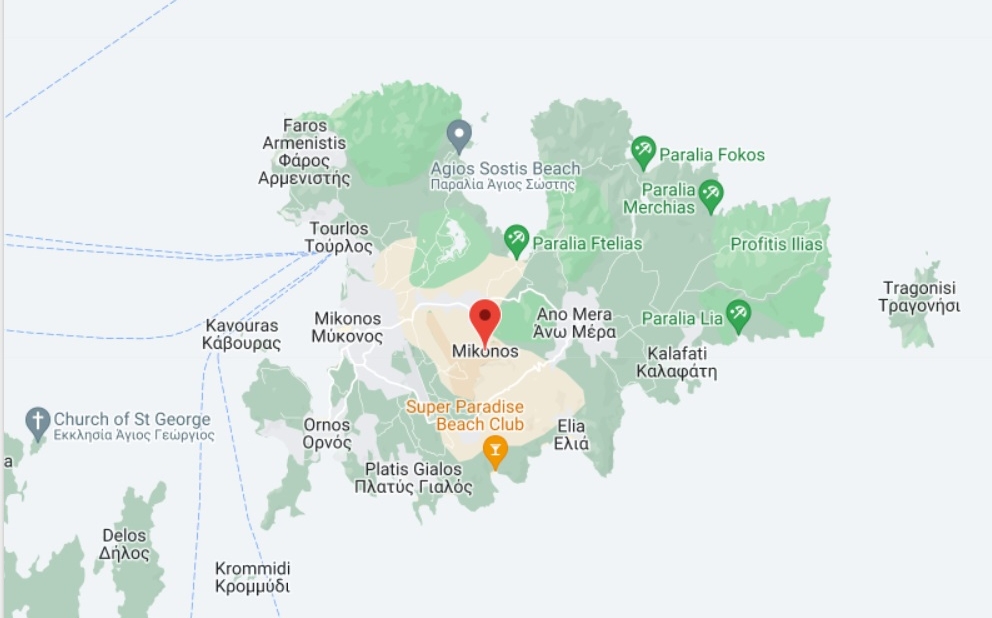 Why Buy a House in Mykonos
A lot of interesting attributes that make this place worth living are its natural beauties like beaches with deep-blue water, some Cycladic architecture with colors like blue, white or yellow; festivals that happen during summertime. Here's why you should invest in Mykonos real estate.
Rich Culture
This beautiful island is full of rich culture and deep history that can be discovered with just one look. Wake up to the sounds of children playing on the beach, stroll through the white streets, try out some traditional Greek cuisine or chat with the locals. Mykonos has always been known as the island of lightheartedness and gentleness. This laid-back quality attracts travelers from all parts of the world and has influenced Mykonos' culture. This provides a great environment to invest in real estate both for a second home or pure investment.
Pleasant Weather
Mykonos is surrounded by the blue sea and steep-sided mountains, which provide natural protection from harsh winds. That means the place is always sunny, warm, with plenty of fresh air without all that smog most other places have to put up with. And there are usually only a few days of rain in the winters with a minimum drop of 23 degrees Celsius in temperature. This is ideal for people who like warm climates throughout the year.
Golden Visa Program
Buying property in Greece for €250,000 or more qualifies you for residency under Greece Golden Visa, which entitles visa-free travel throughout the Schengen Zone as well as access to education and healthcare. So if life without bureaucracy sounds good – this is your solution.
What To Consider When Buying a House in Mykonos
As Mykonos has an awesome blend of rich culture and classy weather, it lives up to all the expectations of overseas investors. However, some key things need to be analyzed before you seal the deal. Here are some of those crucial aspects:
Paperwork
One of the major things to verify is the paperwork. If your property does not satisfy all the legal requirements, it can delay the process. Therefore, ensure that all the paperwork of the property is legal. This is especially important if you're buying property to qualify for Greece Golden Visa.
Neighborhood
The neighborhood is the heart of your home. Hence, it is best if you go take a walk and see what is in the neighborhood. Check out bars, grocery stores, markets, and everything else that you want in your neighborhood. If you're planning to live there full-time, make sure to check the amenities available in the winter.
Analysis of the Property
To get close to an accurate price estimate of the property, it is necessary to analyze it closely. With the analysis, you will get to know about the extra cost that you may have to spend on repairs and upgrades. Consider getting professional help.
Speak to a Real Estate Professional in Mykonos
Get Golden Visa is a bespoke investment advisory firm. Since 2014, we've provided more than 20,000 prospective real estate investors with advice. Contact us today to schedule a call with our independent real estate advisors to help you with your property search in Mykonos.
Schedule Your Call Now
Where To Buy House in Mykonos
Chora
The town of Chora is located in the heart of the Western Shore. Chora, also known as Mykonos Town, is the district that houses all of the island's restaurants and tourist attractions. As a result, investors see it as a fantastic opportunity to purchase a home. Buying a property in Chora is well worth it, with its Cycladic architecture, whitewashed cottages, and balconies overlooking stunning views.
Ornos
Ornos is regarded as Mykonos' most family-friendly area, making it excellent for families. It is located in the western part of the island, about two miles south of Chora. In terms of Mykonos real estate, this neighborhood has a lot to offer. The calm waters and easy transportation and connectivity with other parts of Greece are the reasons for this. By ferries and small boats, this section of Mykonos is well connected to mainland Greece and neighboring islands.
Agios Ioannis
Agios Ioannis is a small town on Mykonos' western coast. It is the least congested region of the island, making it the perfect choice for those seeking privacy and tranquility. There are numerous magnificent villas for sale in this neighborhood, several of which have a spectacular view of Delos Island.
Ano Mera
Ano Mera is situated in the heart of Mykonos and is more traditional and peaceful than its neighbors. Ano Mera offers valuable properties, including luxury villas and apartments.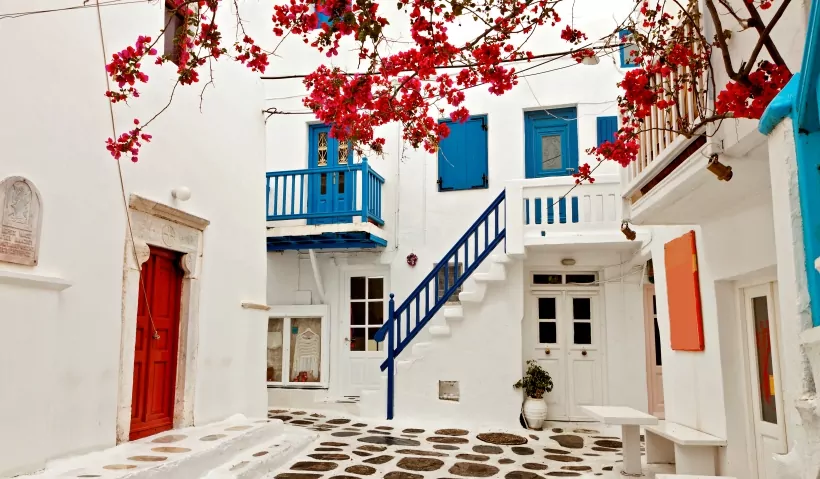 Tourlos
Tourlos is located on Mykonos' west coast, in the northern part of the island. As the location of the two most recent ports, it has excellent access to the rest of the islands. There are several Cycladic-style houses in this area when it comes to real estate.
Things To Do in Mykonos
Your home should be in a place that has something to explore for fun. Mykonos has something for everyone. Here are some cool things that you can do in Mykonos.
Matogianni Street: The place has marvelous aesthetics with many jewelry stores, souvenir shops, and boutiques.
Delos: Just a few kilometers from the southwest coast of Mykonos, Delos is a UNESCO World Heritage Site that houses the Doric Temple of the Delians, the Terrace of the Lions, etc.
Delos Archaeological Museum: As the name suggests, it houses the history of Mykonos, Athens, and Greece. It features various grave statues and steles that are the perfect embodiment of art.
Other than these, you can also go sightseeing at Alefkandra, Mykonos Windmills, Old Harbour, and the Church of Panagia Paraportiani.
Conclusion
If you're up for an overseas real estate investment, Mykonos can be ideal for you. Good luck with your search!
Other Locations in Greece