Your Guide to Buying Property on Greece Islands
At Get Golden Visa, we helped many people buy their dream homes on Greece islands. We're happy to help you along your journey now.
Contact us to speak to our real estate advisors who can assist you with your property search on a Greek island.
---
Greece is a paradise founded on historical soil. It's been home to various civilizations for centuries. Besides, you can't get enough of its delicious cuisine!
European civilization was born in Greece, and the Olympic fire was lit there. One of the first things that come to your mind when you think of Greece is, of course, its beautiful islands.
In this article, you'll learn:
Buying a House on a Greece Island
With gleaming white houses, golden beaches, and azure waters, Greek islands are breathtaking. So how about continuing your life in the photogenic setting of Mykonos, Santorini, or Crete?
It's possible to live a quiet life on the Greek Islands, where you can also party until the morning. The endless holiday atmosphere in the country will sooner or later dazzle you. After all, the people of the Mediterranean are friendly and cheerful.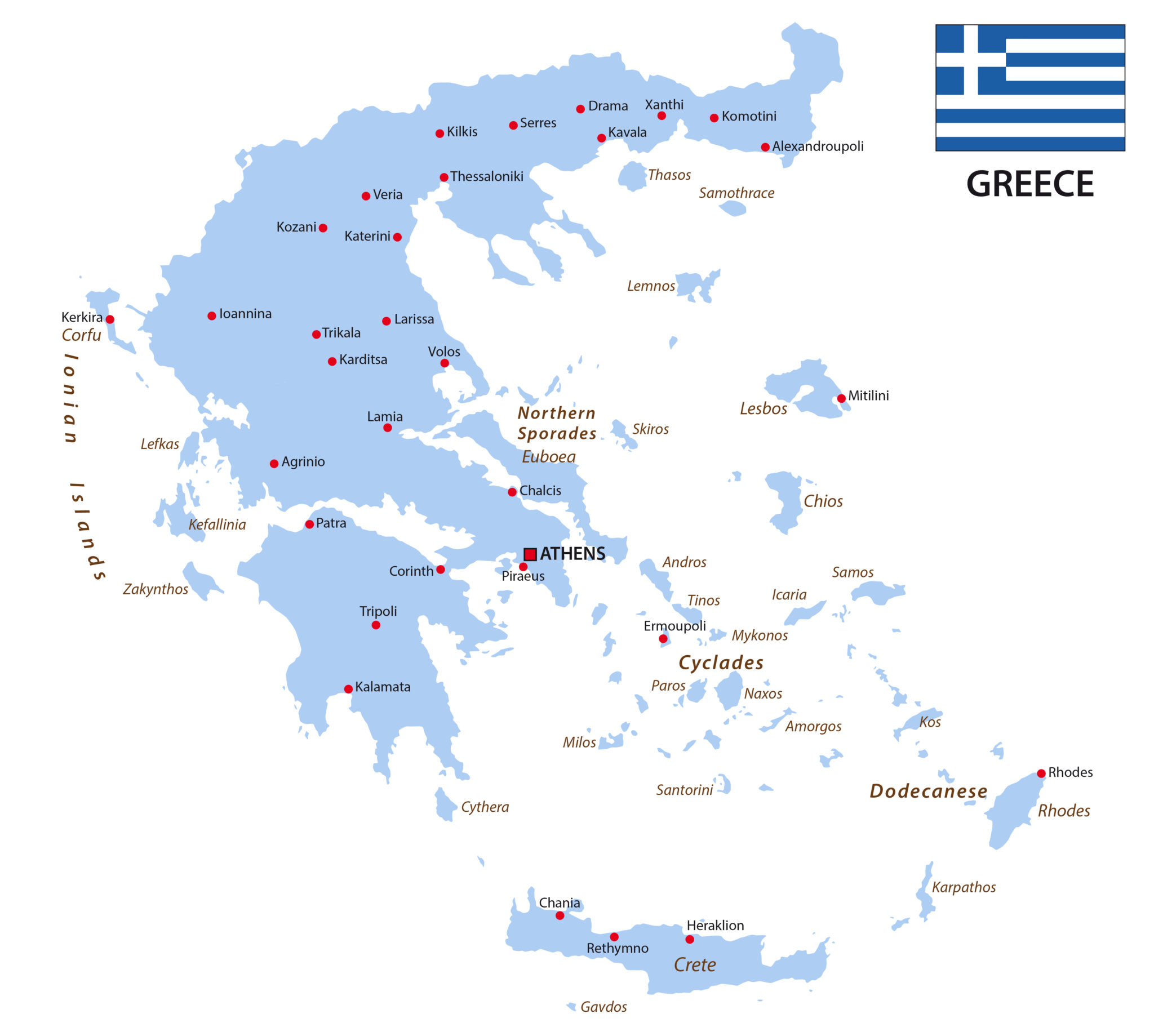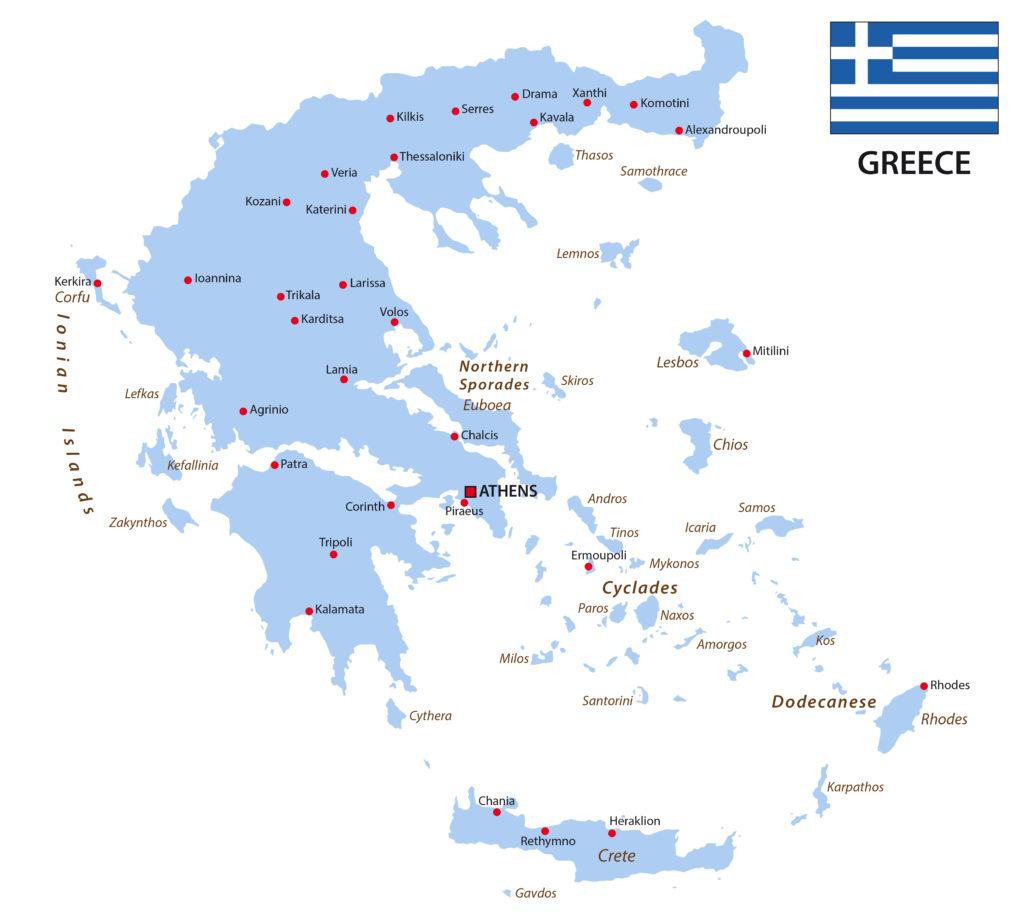 Why Buy Property on a Greece Island
The Greek Islands are very attractive for capital investment due to lower property prices than some European countries, especially in recent years. Greek islands real estate is a favorite of search engines.
It's no coincidence that Greek islands attract so much attention. Here are some of the main reasons to buy real estate on a Greek Island.
Enjoy a Laid Back Lifestyle
Greek islands are famous for their azure waters, warm climate, and nice cuisine made up of fresh seafood. So if you're going to relocate to a Greek island, you'll have a stress-free life, full of leisure opportunities.
Earn Rental Income From Your Investment
If you're not going to live in the house full-time, you can rent out the property you buy right away. Hotels are in short supply as the country welcomes millions of tourists every year. You can make a great income by renting out properties you buy near tourist areas. You can also rent out daily or weekly on Airbnb. Long-term rentals are also a more practical income alternative.
Get Residency in Greece
Buying a home in Greece for €250,000 or more qualifies you for residency under the Greece Golden Visa program. This entitles you to visa-free travel within the Schengen area, as well as access to education and healthcare. So, if you want to live in Greece without any bureaucracy, this is the way to go.
What To Consider When Buying Real Estate on a Greek Island
If you've already made up your mind about buying property on a Greek Island, check below the important factors that will help you to make a good decision.
Off-Season Living
Greek Islands are great destinations for travelers during the summertime. However, note that if you're going to live on a Greek Island full-time, you need to consider the off-season facilities. Are all supermarkets open? What is the ferry timetable for winter? It's going to be wise to visit the island when crowds are away and see the real local vibe.
Renovation
Before starting house-hunting, be prepared for the fact that most houses you're going to view are going to be old. Ask if the property has been renovated recently. Knowing renovation details will help you to estimate the cost.
Paperwork
Although it's rare, some houses on the Greek Islands aren't registered to the title deed. This can be fixed during the acquisition process, but it's going to cause delays. This is why working with professionals who can check the papers thoroughly is important.
Speak to a Real Estate Professional in the Greek Islands
Get Golden Visa is a bespoke investment advisory firm. Since 2014, we've provided more than 20,000 prospective real estate investors with advice. Contact us today and book a personalized call with one of our independent real estate advisors to help you with your property search in one of the Greek Islands.
Schedule Your Call Now
Most Popular Greek Islands for Real Estate Acquisition
Greek islands are an attraction because of their unique landscapes, natural beauty, historical nature, and architectural structures. Of course, it's possible to find houses for sale in the Greek islands that host many visitors and tourists. The prices of houses in the Greek islands vary. Let's quickly go through the most popular Greek Islands for real estate acquisition.
Mykonos Real Estate
The island of Mykonos is located almost in the middle of the Aegean Sea and is one of the most beloved islands in Greece. Geographically, it's located on the northern side of the Cyclades. It's famous for its beaches, almost 300 days of sunshine, whitewashed buildings, and crystal blue sea. Even though the houses in Mykonos are built in traditional architecture, they're very comfortable.
There are many things to do in Mykonos. It's an island perfect for all ages, such as taking a walk through the narrow streets of Chora, and watching the sunset from Little Venice. You can walk anywhere you want. Super Paradise and Kalo Livadi have fabulous beaches to swim in and have a warm sunbath. Head to Mykonos Town and in the evening enjoy a night out in the many bars and clubs. It also has enough schools, hospitals, and markets nearby. The prices can be some of the highest in Mykonos real estate.
Santorini Real Estate
Santorini is 200 km southeast of Greece. It has been chosen as the most beautiful island in the world more than four times and is one of the most photographed places globally. So, if you have a quick look at the Santorini real estate options, you will find many houses with romantic views.
Santorini is one of the most passionate destinations. It attracts thousands of tourists every year and is awe-inspiring. The architectural structures on the island have a volcanic form. And the architecture is in the traditional Cycladic style, with white-painted houses.
Besides, it's worth mentioning that Santorini is one of the most expensive islands in Greece. Almost every house preserves its traditional architecture. Moreover, architectural structures that would disturb the naturalness of the island aren't allowed.
Paros Real Estate
Paros Island is a place that Greeks and middle-aged European tourists prefer. It impresses with its quiet and charming villages, clear beaches, and whitewashed houses. Don't forget the perceived naturalness, too. On the island, you can find every shade of both green and blue.
A Mediterranean atmosphere dominates the island.
Pure white marble on Paros Island has been the island's greatest wealth since ancient times. Olive trees and hills covered with vineyards are a visual delight for visitors. Thus, Paros real estate attracts a lot of attention, especially from those seeking tranquility.
Rhodes Real Estate
Rhodes is high on the list of nature and history-loving tourists. It hosts many tourists every year during the summer months. It ranks first among the best-preserved islands in Europe. Thus Rhodes's real estate prices are ranking high. The medieval old town, protected by UNESCO, is fascinating. Apart from its historical heritage, Rhodes Island is also popular for vacation tourism.
Crete Island Real Estate
Crete is the largest island in Greece. It's also the 5th largest island in the Mediterranean Sea. Flooded with visitors in all seasons, the Crete real estate market has many options for newcomers. Crete impresses with its historical and natural beauties. The island is fascinating with its largest palm trees on the European continent.
Both Heraklion and Chania, the second-largest city in Crete, have international and domestic airports. So, it is easy to reach the island from Athens on the mainland and other European cities. Traditional Cretan cuisine is well-known for its unique ingredients and flavors.
There are many properties for sale, and competition in Crete real estate keeps prices low. The property prices in Crete can be much lower than in other European countries. The most sought-after properties for sale are detached villas. Apokoronas, Elounda, Rethymnon, and Agia Galini are among the popular areas.
Get Golden Visa: Who We Are and How We Can Help You
Get Golden Visa is a bespoke investment advisory firm. We help people get additional residency and citizenship by making a qualifying investment through property acquisition. With our team of legal professionals in the Greece office, we offer our clients a tailor-made and transparent journey in their quest for Greece Golden Visa through real estate acquisition.
Contact us to speak with one of our expert team members in Greece who can assist you with all of your queries regarding Greece Golden Visa real estate investment.
Get in Contact
How Long Does It Take To Buy a House on a Greek Island
Purchasing property on a Greek Island is a relatively simple process if you are well-prepared. Obtaining legal aid can greatly expedite the process. The closing will take four to six weeks once you've decided on the property you want to buy.
You can check out our ultimate guide on Buying Property in Greece for further reading.
Notary Services on Greek Islands
When you buy property in Greece, a notary is required to be present. All islands we've listed above have notary services which you can avail.
Conclusion
Deciding to invest in a property from the Greek Islands real estate market can be both a profitable and enjoyable investment. Either as a pure investment or a second home, Greece offers countless benefits. Contact us for your inquiries on real estate investment in Greek Islands.
Other Locations in Greece