Your Guide to EB5 Investor Visa
At Get Golden Visa, we worked with investors and families from all over the world interested in getting investment visa to the USA.

Contact us and speak to our independent advisors who can assist you with all questions regarding the investor visa USA.
---
Gaining a lawful status to live and work in the United States is not a cinch. Well, so to say, neither is it a very grueling task. All you need is a guide to get acquainted with the ways and procedures to obtain a US green card.
One of the best routes to acquiring it is the EB5 Investor Visa in the USA.
Some of you might already be acquainted with the term, but for some, it is novel. We are sure by now your mind must have become a pool of questions and confusion.
So, before these million questions start troubling you, let's begin with what it really is about.
What You Will Find in This Article
---
EB5 Investor Visa for USA in a Nutshell
An investor visa that requires a minimum of $800,000 investment in a US commercial enterprise
The investment is required to create at least 10 jobs for US citizens
The EB5 visa grants you a Green Card
You can reside and work in the US by holding an EB5 visa
Only 10,000 EB5 Investor Visas are issued by the US each year
---
EB5 Investor Visa USA
The EB5 or the EB5 Investor Visa Program was created in 1990 to allow qualifying foreign investors to become legal permanent residents of the United States. In simplified terms, you can secure your green card if you invest in a U.S. business. The program was initiated by the United States Congress and is currently run by the United States Citizenship and Immigration Services (USCIS). The key motive for launching this program was to expedite increased investment in the U.S. economy.
To get an EB5 visa, you must invest at least $800,000 in a Targeted Employment Area to finance a business that employs at least 10 American workers.
Besides, you have the freedom to choose whether you want to invest individually or want to work through a wider investor pool via regional centers (RC). These regional centers are federally approved parties that help foreign investors to connect with developers who require funding to establish their businesses.
Some of the most flourishing businesses financed by EB5 visa investment are Hilton, Hyatt Hotels, Marriott, and Starwood's SLS Hotel & Casino.
Another successful infrastructure project is the I-95/Pennsylvania Turnpike connector, the longest north-south route in the Interstate Highway System.
Investing is the best route to secure your USA residency. So, let's see who can apply for it and how.
EB5 Investor Visa in USA Requirements
EB 5 visa is an investor's green card. To apply for it, the individual has to satisfy the following eligibility criteria.
Invest $1.05 million in a qualifying commercial enterprise, or
A minimum investment of $800,000 in a Targeted Employment Area (TEA) with the promise of creating at least 10 full-time jobs for US citizens within two years
The investment must benefit the US economy by providing goods or services to domestic markets
But first, go through this list of things that you do not require to apply for an EB 5 Visa.
You don't need to have a job offer lined up or a labor certification
It's not necessary to reveal your net worth
You don't need to be highly involved during the process, unlike E2 Treaty Investor Visa Program which requires you to run the business
Eligibility for Investor Visa in USA
The investment must be sourced through legal means and must not be borrowed
You can invest in the form of cash or cash equivalents like certificates of deposit and treasury bonds
Moreover, it can also be done through an inventory or other tangible property secured as an asset by the individual
Immigrant Petition by Alien Entrepreneur: The EB5 investors need an approved I-526 petition stating that they have started the U.S. business investment process.
Get Golden Visa: Who We Are and How We Can Help You
Get Golden Visa is a full-service investment immigration agency. We provide end-to-end solutions on residence and citizenship by investment programs in numerous countries worldwide.
We work with clients from all around the world, interested in obtaining US residency visas and Green Cards.
Contact us and talk to one of our experienced team members to help you with any and all your questions.
Get in Contact
Benefits of the EB5 Investment Visa to the USA
Once your petition is approved, your spouse and unmarried children under 21 can also apply for the immigrant visa. EB5 investor visa USA offers numerous benefits to you and your family. Once you obtain it, you have the right to live, retire, work, and study anywhere in the country and get access to the US education system. Moreover, the EB5 Visa program is beneficial not only for the investor but also for the US and its citizens.
Find below some of the key benefits of the EB5 Investment Route:
Access to social security

Access to medicare

Route to permanent residency

Access to the world-class education system

Benefit from child care services

No visa sponsor is required

It's a profitable investment

Freedom to live and work in the US
1. Access to Social Security
As you stay and work in the USA, you also pay taxes, which makes you eligible for social security credits. However, to qualify for these services, you have to work in the U.S. for a minimum of 10 years. Moreover, these benefits include retirement payments, disability benefits, and survivors' benefits.
Furthermore, a necessary eligibility criterion is to have an SSN. You can apply for a Social Security Number once you get the EB5 visa. In fact, you can also request it while filling out the visa application. If you don't do it during the visa process, you can go to a Social Security Office and apply for it there. You will receive your SSN via mail at your US mailing address within a few days of applying.
2. Access to Medicare
Once you receive your EB5 Visa or the Investor Visa USA, you become a lawful permanent resident. Hence, you get access to USA medicare. However, it is intended for people over the age of 65 or people with certain qualifying disabilities. Besides, you must have paid Medicare taxes for at least 40 quarters.
There are different types of Medicare:
Part A includes major procedures like hospitalizations or surgeries

Part B covers visits to the doctor's office, lab work, X-rays, etc.

Part C entails some facilities from parts A and B along with additional coverage like vision, dental, etc.

Part D includes prescription medication
If you have worked 40 credit hours, you are not required to pay for Medicare Part A. However, you have to pay for Medicare parts B, C, and D.
Furthermore, you can register for Medicaid, a health coverage program for low-income individuals, elderly persons, and disabled persons. Under this investor visa USA, two types of services are provided, Emergency Medicaid and Full-Scope Medicaid.
3. Permanent Status
After two years of overseeing their investment in the EB5 Investor Visa USA, the investors can apply for full permanent residency by filing the I-829 application. If it gets approved, you, your spouse, and the children can work and live in the USA permanently. Moreover, you also have the option to obtain US citizenship by investment.
Not to mention, you will also have to file income tax returns with the U.S. Internal Revenue Service (IRS).
4. Access to World-Class Education System
International children can reap the benefits of the US education system through the EB-5 visa program. Moreover, you may be able to attend colleges and universities at lower tuition rates as are available to United States residents.
5. Child Care Services
Acquiring an EB5 visa lets you avail yourself of childcare services. In fact, it also makes you eligible for foster care and adoption assistance. For instance, the Children's Health Insurance Program (CHIP) is excellent for children who do not qualify for Medicaid. These children are the ones whose parents' income is either too high for this program but low to get private health insurance.
For further reading, please check out our article on Green Card vs. Citizenship.
6. No Requirement of a Visa Sponsor
The EB5 Investor Visa applicants are their own sponsors, without needing any American citizens or groups to sponsor them in their application process. The EB5 program itself is recognized as an equivalent of a sponsorship.
7. Profit Return From the EB5 Investment
In some cases, the EB5 investment can turn into a future monetary profit and provide an income for the investor. Typically, the only outcome of the EB5 investment is becoming entitled to the right to live and work in the US by holding a Green Card, but the right investment can lead to additional financial perks.
8. Freedom To Reside and Work Wherever You Want in the US
While other visa types that allow you to reside and work in the US have more strict requirements as to where you live and work and if you fail to meet them you can lose your status, the EB5 Visa Program provides many investors with the opportunity to live and work wherever they want in the United States.
Benefits of the EB5 Visa Program for the US and Its Citizens
1. Economic growth
2. Job creation
3. Advance in the underserved areas
1. Economic Growth
The main reason behind the establishment of the EB5 Investor Visa Program in the first place was to create economic stimulation in the United States with the foreign capital flow it'll bring about. In addition to the initial investment they make to obtain a Green Card through the EB5 Visa, the investors entering the US contribute further to the US economy by renting or buying real estate, sending their children to schools, shopping for settling down, and in many other ways.

2. Job Creation
The relevant investment made for the EB5 Investment Visa Program is required to create at least ten new jobs for the citizens of the United States. This requirement of the EB5 Visa Program decreases the unemployment rates in the US by creating work opportunities for Americans.

3. Advance in the Underserved Areas
One of the options that EB5 Visa applicants have is to invest in the Target Employment Areas, also known as TEAs. These are typically rural areas where the unemployment rates are at least 150 percent of the national average. Making investments in such domestic locations lead to economic growth and reduces unemployment in these underserved areas.

Investment Options for the EB5 Visa Program
One of the perks of the EB5 Investor Visa Program is that you can choose to make a direct investment or an investment through a Regional Center.
Eb5 Investment Amount
1. A minimum investment of $1.05 million in a qualifying commercial enterprise
2. A minimum investment of $800,000 in a Targeted Employment Area (TEA) with the promise of creating at least 10 full-time jobs for US citizens within two years
Investment Routes for EB 5 Program
1. Investment Through Regional Centers
The Regional Centers are economic growth-promoting bodies that are attached to the USCIS. These centers aim at stimulating the economy in the TEAs by pooling the EB5 investments. The EB5 Investor Visa applicants typically prefer investing through the Regional Centers because their top priority is to immigrate to the US rather than gain profit from the investment. Moreover, it's an easier process because the Regional Centers deal with the creation of the required ten direct or indirect jobs for the US citizens.
Note: 95 percent of all EB-5 Visa petitions are piled through a regional center.
2. Direct Investment
The direct investment option requires you to establish your own business in the US or purchase an already existing company, and you must create at least ten direct jobs for Americans.
Since this type of investment is made outside the TEAs where investment is much-needed and encouraged, the required minimum investment amount is quite higher.
Green Card Through EB5 Visa
An EB5 visa is a great option for anyone looking to get a green card and permanent residency in the United States by investing in the country.
You immediately get your immigrant visa as an EB5 investor if you're living in the US. For this, you also need to meet certain other requirements, such as:
Filing Form I-485, Application to Register Permanent Residence or Adjust Status to apply for a Green Card without leaving the country
Filing your Form I-485 only if USCIS has approved your Form I-526, Immigrant Petition by Alien Entrepreneur
EB5 USA Rules
The latest EB5 regulations and legislation were set by the Department of Homeland Security on March 22.
EB5 Investment Options
Amount of Investment

: Under the new set of rules, the minimum investment amount in a TEA has been lowered to $800,000, and that for a non-TEA is set at $1,05 million.

Retain Priority Date

: An investor who already has an approved I-526 Petition is allowed to retain a priority date on one condition that the petition wasn't approved by fraud means. To exemplify, suppose a change occurs in the applicable regional center or new commercial enterprise, and the petition has already been approved. In such a case, the applicant can retain the date but file a new I-526 Petition based on the latest facts.
Note: This is not applicable to immigrants who received visas through I-485.
Residency Requirements
If you think that to obtain a green card, you just need to follow the laws and meet the program's requirements, you are wrong! As per the latest EB5 rules, the residency requirement can be difficult for investors who often travel outside the United States. According to the law, an individual cannot stay outside the country for 180 days or more consecutively.
In case you have to travel after every six months, here are some requirements:
Get a social security number (SNN)

Rent or sublease an apartment under your name

Open your bank account

Get a US credit card and use it for shopping, travel, etc.

Get a driving license

Become a member of some library or any club (for instance, a professional club in your area of expertise)

File Tax Returns regularly (if applicable)
Just in case you fail to meet these requirements, you can try other legitimate ways in the USCIS process and apply for a re-entry permit. That, however, has a different but simple procedure.
Other Changes
Designation of Target Employment Area

: Specially designated high-employment TEAs will now include tracts that have experienced at least 150 percent of the national average unemployment rate. Besides, the DHS will be responsible for assigning these designations to eliminate the current practice of a state designating certain areas.

DHS has excluded all references to "management"

of the new commercial enterprise for the reason that investors with customary rights under standard limited partnership agreements shall meet the EB-5 Program requirement
EB5 Investor Visa to USA Application Timeline
The first step toward the EB 5 visa processing timeline is to file an I-526 Petition. The estimated processing time of the same is 35 months to 52.5 months. Moreover, the process duration varies from one country to another due to the applicant's country of birth. This happens because every nation has a unique limitation on the number of visas that have to be granted per fiscal year.
Now there might be two possible situations when you receive the visa number.
You're outside the USA

: In this case, you have to file a DS-260, Immigrant Visa Electronic Application at the National Visa Center in your country. After that, you have to attend a visa interview at your local Consulate or Embassy. Thereafter, you're eligible to enter the U.S. on an EB-5 visa. The process may take 9-12 months.

You're in the USA:

Now, you have to file an I-485 form, which is an application to Register Permanent Residence. Once the application has been approved, you will receive a conditional green card. The process may take six to nine months.
Furthermore, when you complete 21 months after receiving the green card, you become eligible to file the I-829 form. This is a petition to remove Conditions on Permanent Resident Status, and the process takes 33 to 54 months to complete. If the petition is approved, you will soon get your unconditional green card.
How To Apply for an EB5 Visa
The route to EB 5 Visa starts with making your investment. After your investment has been completed, here are the following steps:
Step 1. Speak to Get Golden Visa Team and Start Your Application
You make your application to the USCIS using Form I-526. This form is also referred to as the "Investment Visa application form".
Step 2. USCIC Reviews Your Application
Your application is reviewed by the USCIS. After the review is complete, it's sent to the National Visa Center (NVC).
Step 3. Pay the Fees and Submit Your Documents
You'll be contacted by the NVC and requested to pay the appropriate fees and submit the necessary papers. The NVC will give you instructions on where and how to pay the fee.
Step 4. Apply for an Immigrant Visa and Visit the US Embassy for Your Interview
You apply for an immigrant visa and go to the US Embassy for your interview. The NVC will notify you of the location and time of the interview, as well as the documents you should bring.
Step 5. Receive Your Visa
The US Embassy will issue your Immigrant Investor Visa if everything goes as planned
Important: If you are already in the United States, instead of applying at a US Embassy, you must petition for adjustment of status (Form I-485) with the USCIS
Step 6. File I-829 Petition
After 21 months, file I-829 Petition and apply for permanent residency.
Step 7. Become a US Citizen
After five years of legal residency, you'll become eligible for US citizenship.
As the Get Golden Visa team, we're here to help you through your US citizenship by investment journey.
---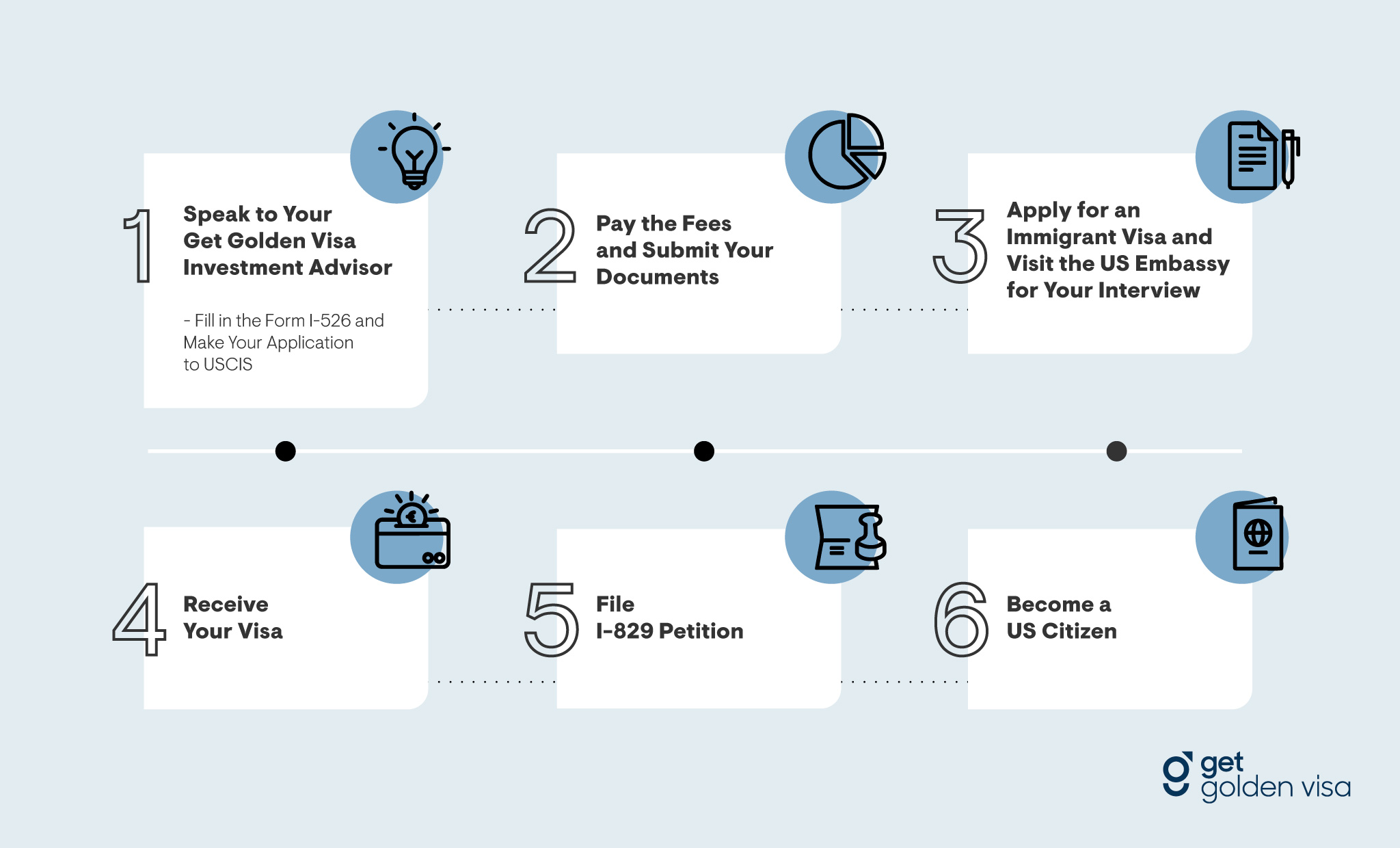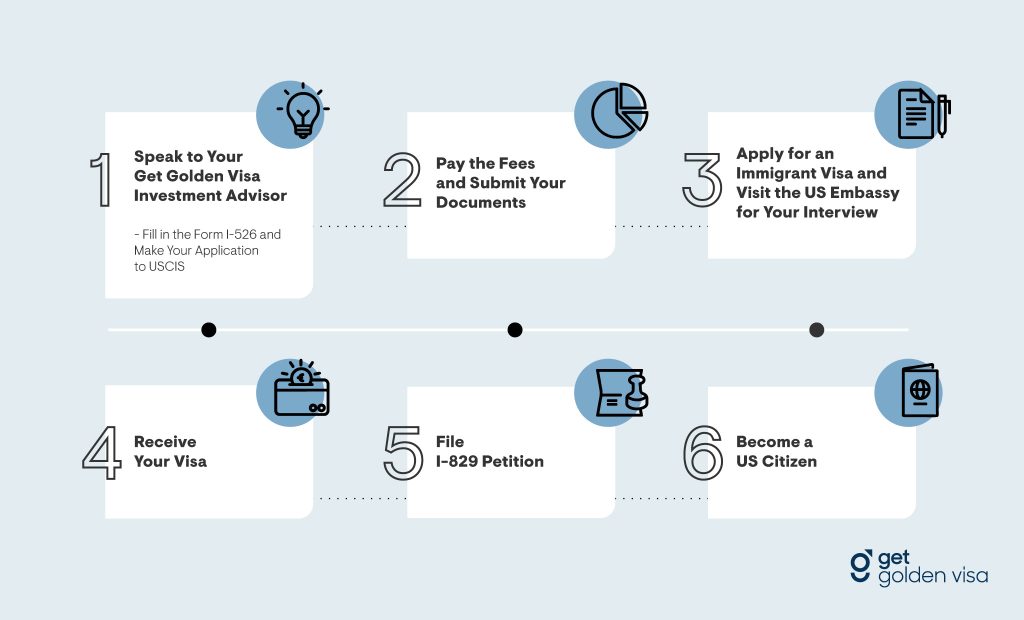 Documents Required for the EB5 Investor Visa
You need to provide a number of documents in order to become an eligible applicant for the EB5 Investor Visa. Find these documents listed below:
Valid passport

Copies of passports (both personal and of family members)

Documents of household registration

Evidence of previous applications for immigration

Criminal record

Business ownership documents

Business License(s)

Evidence as to the source of the investment sum

Detailed business plan

Organizational documents and partnership agreement

Title/Position statement and duty descriptions

Bank Statements and Tax Returns (last 5 years)

Documentation of any sources of capital

Approved I-526 petition proving that the investment process is initiated
There are a few specific forms you need to file with the USCIS throughout your application until you receive your green card. These forms and the paperwork they require are as follows:
Form I-526
Form I-526 is the initial form that'll put your EB 5 program application into the process. You can download Form I-526 from the website of USCIS. After filling out the form thoroughly, you need to file it with the USCIS by following the instructions in the application.
Documents proving the active process of investing or its completion

Records of business registration

Tax returns

Evidence of other sources of capital

Certified evidence issued in the last 15 years regarding the courts of civil actions, criminal actions, and governmental proceedings involving money judgments against you.

Evidence that your investment creates at least 10 full-time jobs for US citizens

Filing fee receipt
DS-260/Form I-485
Upon the approval of Form I-526, depending on whether you're in the US or not, you need to file either one of these forms. If you're outside the US, you're required to file DS-260 to travel there. However, if you're already in the US, you're only required to file Form I-485 to shift from nonimmigrant to immigrant status and become a permanent resident.
Valid passport

Two photographs

Birth certificate

Court and police records

Form I-864 (if demanded)

Form-I526 (approved)

Marriage certificate (if you are to bring along dependents)

Filing fee receipt
Form I-829
Upon the completion of the previous processes, you become a conditional permanent resident for a 2-year period. You need to file Form I-829 to remove the condition on status. You can file this form within the last 90 days of the said 2-year period.
Bank statements

Contract evidence

Tax returns of income

Payroll records

Investment receipts and invoices

Quarterly tax statements of income

Employees tax documents

Employees Form I-9

Filing fee receipt
EB5 Visa Cost
In addition to the compulsory EB5 investment amount, the applicants are required to pay some additional fees and costs. Find below the payments you need to make to become eligible for the EB5 Visa.
Direct investment: $1,05 million

Investment in a TEA: $800,000

Form I-526 filing fee: $1,345

Immigration lawyer legal fee: variable

Adjustment of Status fee/Immigrant Visa Application fee: $1,225/$345

Form I-829 filing fee: $3,750

Regional Center administration fee: $50,000-$70,000

The EB5 business plan expenses: ∼$3,500

Business entity formation costs: variable

Translation of the relevant documents: variable
Which Countries' Citizens Are Eligible for the EB5 Investor Visa?
Anyone can apply for the EB5 Investor Visa, regardless of their nationality or country of original citizenship. It does not matter if you're from South Africa, Asia, or Europe, so long as you meet the requirements of the EB5 Visa Program, you're an eligible applicant.
The Due Diligence
When it comes to investing in a business securely, Due Diligence has to be in practice. But how can we use due diligence in EB5 or Investor visa USA?
We will come to that later. First, let's understand what due diligence actually is.
Due diligence is a documented investigation, audit, or review shown to authenticate the facts of a matter under consideration. In the business world, it is essential to examine the financial records before entering into a proposed transaction with another party.
This term became famous after the US government passed the Securities Act of 1933. Since then, it has become compulsory for dealers and brokers to break every business or product information. If they refuse to do so, they will be liable for criminal prosecution.
So, how important is Due Diligence for the EB5 investors?
Not to mention, EB5 investors are mostly experienced businessmen and are aware of how due diligence works in their respective fields. However, some of them get stuck in this during the EB5 investing process.
Below are some factors that investors must consider while conducting due diligence.
The first step is to analyze the regional center, including its record of success and ability to manage a project that can provide a return on the investment amount. Moreover, make sure to check the following points.
Has the regional center previously aided successful visa petitions?
Check whether the center is able to provide information about the previously successful visa petitions. If a visa has been denied, the center must provide the legitimate reason for the denial and what practices have been in effect to prevent such issues in the future.
For how long has the regional center been in operation?
An investor must see whether the USCIS designated the center and how many projects have been conducted there. An area that has experienced projects and funds in the EB5 is more likely to focus on the visa petition adjudicators and deal with any issues that arise during the project.
Is the project approved by USCIS?
The first visa petition associated with an EB5 investor visa USA project constitutes an additional level of USCIS review. It checks the business plan and economic impact report for the project. Investors are likely to earn more profit if the project has been approved in the initial USCIS review.
Can the project account for the required number of jobs?
An investor has to prove that his investment has resulted in full-time job creation for 10 American people. Therefore, investors must carefully evaluate the project documentation to ensure that it can fulfill this requirement. If multiple investors are investing in a project, then the regional center has to ensure that each investor is credited with the accurate number of jobs.
Furthermore, a financial advisor can help to guard an investor against fraud or misinterpretation while conducting their due diligence.
Moreover, while conducting due diligence in regional centers or projects, investors have the privilege of making informed investment decisions and increasing their chances to get a successful visa petition.
Tax Consequences of Residency in the US
Once you become a lawful permanent resident after obtaining the EB5 visa, you become liable to pay taxes to the US government just like any other resident. There is no tax distinction between green-card holders and U.S. residents.
Tax residents also generally report tax payments, including withholding, using the same rules as U.S. citizens. Moreover, tax residents may claim a foreign tax credit for the income tax paid or owed to a foreign nation on a foreign income source to avoid double taxation.
Residency and US Estate Taxes
If you have received a US green card by investment, you have to pay an estate tax as high as 46 percent on your worldwide income. Moreover, an individual is also subject to gift tax obligations. It has to be in accordance with the requirements of the Foreign Account Tax Compliance Act (FATCA), like the FBAR, 8938, 5471, and other documents.
If the tax planning has been improper, whether on purpose or intentionally, it may lead you to specific penalties and other taxes.
Besides, you might need to engage with accountants and attorneys in the U.S. as well as in your home country to organize and design to minimize the tax impact effectively.
Furthermore, depending on how the EB5 investment has been polished, the non-resident alien must pay taxes. The taxes may be deducted from the investor's income, and he has to file a U.S. tax return.
According to the US tax withholding rules, the IRS requires the partnership to withhold tax at a maximum rate of 37% for 2019.
Dual Citizenship in the US
Having Dual citizenship or Dual Nationality means you can become a citizen of two different countries simultaneously. Moreover, you also get to share the rights and responsibilities of a citizen in both countries.
Dual citizenship is not allowed by every country, and rules vary for each of them.
Now, talking about the USA. The United States government also allows dual citizenship. Moreover, a U.S. resident may obtain citizenship in a foreign state without any risk to their U.S. citizenship. However, a person above 18 may also relinquish his US citizenship after acquiring a foreign nationality if they wish to.
Furthermore, dual nationals are required to obey the United States and the foreign country's laws. Moreover, US nationals will have to enter and leave the country using a US passport only.
Visa-free Destinations with the US Passport
As the US passport is one of the most powerful documents in the world, it allows you to travel visa-free to many countries. For instance, you can travel to most European, Caribbean, and Central and South American countries.
Besides, US citizens can travel to 184 countries and territories without requiring a travel visa or with a visa on arrival. European Union member countries also allow US residents to travel visa-free.
However, this doesn't mean that you can travel wherever you want to go and for as long as you wish. This varies from country to country. Therefore, you must plan your trip considering the local immigration rules and regulations, especially if you want to stay for an extended period.
EB5 Investor Program: The Establishment
Congress established the EB5 Investor program—also known as the Region Center Program—as early as 1992. The program issues EB5 visas to those applicants who made a specific investment into US commercial enterprises through regional centers. The process is supervised and should be approved by the United States Citizenship and Immigration Services.
The reason behind this program's creation was the effort to invigorate the economy of the United States by outsourcing capital investment and creating employment for US citizens. The program, which was created in 1990, was properly introduced in 1992. To provide solid economic growth to the US, the EB5 Investor Visa Program was improved even further by enabling Regional Centers to accumulate the capital derived from the EB5 investments to conduct various economic development projects.
The investment immigration program enhanced the economy of the US by providing the country with a hot capital flow that proved to get ahead of the municipal budget gaps. In addition to introducing such a relieving source of capital for initiatives of regional economic development, the program also created jobs and services and has contributed to the enhancement of the US infrastructure through these initiatives.
EB5 Reauthorization
If the applicant is in the USA by legal means, the application Form I-536 and the Adjustment of the Status form (I-485) can be filed simultaneously, states the EB5 Reform and Integrity Act of 2021. However, according to the said act, the applicant is entitled to the right to apply for the EB5 Green Card for a period between a couple of months and years, provided they're in the United States.
After a 9-year gap that took place between 2021 and 2022, the EB5 Visa Program was reauthorized by congress to be valid from March 2022 to March 2027. However, its official getting back in operation was not until August 25th of 2022. This delay was due to the EB5 stakeholders and the USCIS taking a little longer to settle an agreement. The agreement introduced the reauthorization of the previously approved regional centers and the safeguarding of the EB5 investors.
EB5 Visa for Indian Citizens
The EB5 Visa is the most rapid and effective way to obtain permanent residency in the US for Indian citizens, who are the second most crowded immigrant group in the States. For Indian citizens who pursue careers or exceptional educational facilities in the US, the EB5 Visa Program holds many advantages.
Indian citizens can obtain American citizenship and hold on to their Overseas Citizen of India status at the same time, benefiting from the privileges of both. Moreover, their dependents, spouses, and unmarried children under 21–can also benefit from the program.
Alternatives to Investor Visa USA
Just like the USA, several countries like Malta, Portugal, Spain, and Greece have launched residency programs for investors. Let's have a look at how one can obtain residency in these countries as an alternative to an investment visa to the USA.
1. Malta Citizenship by Investment
The Maltese Citizenship by Naturalisation for Exceptional Services by Direct Investment (MEIN) The investor has to make a minimum investment of €690,000. Moreover, you have to prove that you have resided in the country for at least 36 months.
Another route is by investing €750,000 and proof of 12 months of residency. After one-three years of residency, you will be entitled to Maltese citizenship and a passport.
2. Portugal Golden Visa
The Portugal Golden Visa Program came up in 2012 as the investor visa program. The government has been actively promoting it. To get a Golden Visa, you have to invest €500,000 (or at least €280,000) in Portugal real estate. Then, you will obtain the resident permit for yourself and your family (dependent children only).
3. Spain Golden Visa
The Spanish Visa Program was launched in September 2013 and offered an individual to invest in the country's real estate. The minimum investment required is €500,000. Furthermore, you can rent any residential or commercial property for income. An individual can use as many properties as he wishes in order to meet the minimum investment amount requirements.
4. Greece Golden Visa
The Greece Golden Visa program enables non-EU nationals and their family to obtain Greek residency by investment. A person has to invest a minimum of €250,000 in real estate property, plus the applicable taxes.
Not to mention, there are specific rules and regulations followed by each country.
Investment Visa to USA: The Wrap-Up
So, that's all about the US investor citizenship program. For anyone who wishes to acquire a US green card, this program is the perfect route.
Speak to Citizenship by Investment USA Advisors
Get Golden Visa provides a full range of investment immigration services. We specialize in assisting clients from all over the world in applying for residency programs worldwide, including a USA investment visa.
Contact us to get more information and speak to one of our advisors to help you with your investment.
Book a Call Now
Investor Visa USA – FAQ
What is the EB5 Visa Program?
The EB5 is an investor visa program that allows the applicant to obtain a green card to permanently reside in the US by making a certain investment. The applicant is required to make either a direct investment amounting to $1,05 million by establishing a business or purchasing an already existing one or an investment in a TEA through a designated Regional Center. Both said investments should result in the creation of at least 10 jobs for US citizens.
What are the advantages of a US green card?
Those who hold a US green card can reside, work, or retire wherever they choose in the United States. They can enjoy the privileges of holding a US passport or other benefits of American citizenship. The dependents–spouses and unmarried children under 21–of the green card holders can benefit from its perks as well.
What is a TEA?
A TEA is a Targeted Employment Area, which refers to the underserved rural areas where the unemployment rate is at least 150 percent of the national average.
What is the most common reason for an I-526 denial?
The most common reason for the denial of an I-526 petition is the failure of the applicant to prove the investment sum was sourced legally.
What is a Regional Center?
Regional Centers are USCIS-authorized organizational bodies that pool the EB5 investment funds to create jobs and enhance the economic conditions of the TEAs (Targeted Employment Areas). Most investor visa USA applicants prefer to work with regional centers.
What is Form I-526?
Form I-526 is the initial application form you file with the USCIS for the EB5 Investor Visa Program. The said form starts your application process by proving you're eligible for the EB5 investor visa USA.
What is Form I-829?
Form I-829 is the petition you need to file to remove the condition on your permanent resident status. The I-829 petition, which you can file within the last 90 days of your 2-year conditional permanent residency period, proves that you've successfully completed the required process for the EB5 Investor Visa Program and US investment green card.