Your Guide to Buying Property in Greece
At Get Golden Visa, we helped many people buy their dream homes in Greece. We're happy to help you along your journey now.
Contact us to speak to our real estate advisors who can assist you with your property search in Greece.
---
Greek real estate went through a tough time, to put it very mildly. Now, it's time to bounce back. In this article, we'll focus on property prices in the following locations:
Property prices are on the rise from the historic lows. The appreciation is partly thanks to the Greece Golden Visa program, a residency by investment program introduced by the Greek Government in 2013. The 2019 elections and the new government's liberal economic policies also helped boost the market. Prime Minister Mitsotakis lost no time in taking the right measures to attract foreign investment into the country.
The table below shows the Bank of Greece Housing Index. It was at an all-time high at 102.20 in 2008 Q3. The economic crisis led it to decrease by more than 40% and hit rock bottom at 58.90 in 2017 Q3. Greece successfully got out of the EU/IMF financial assistance program in August 2018. Financial and real estate investors started to invest in Greece with immediate positive impacts on the economy.
Since then property prices show an upward trend, but the 2020 values are still 35% lower than the historical high and 14% lower than the index average (at 77,59) between 2006-2020.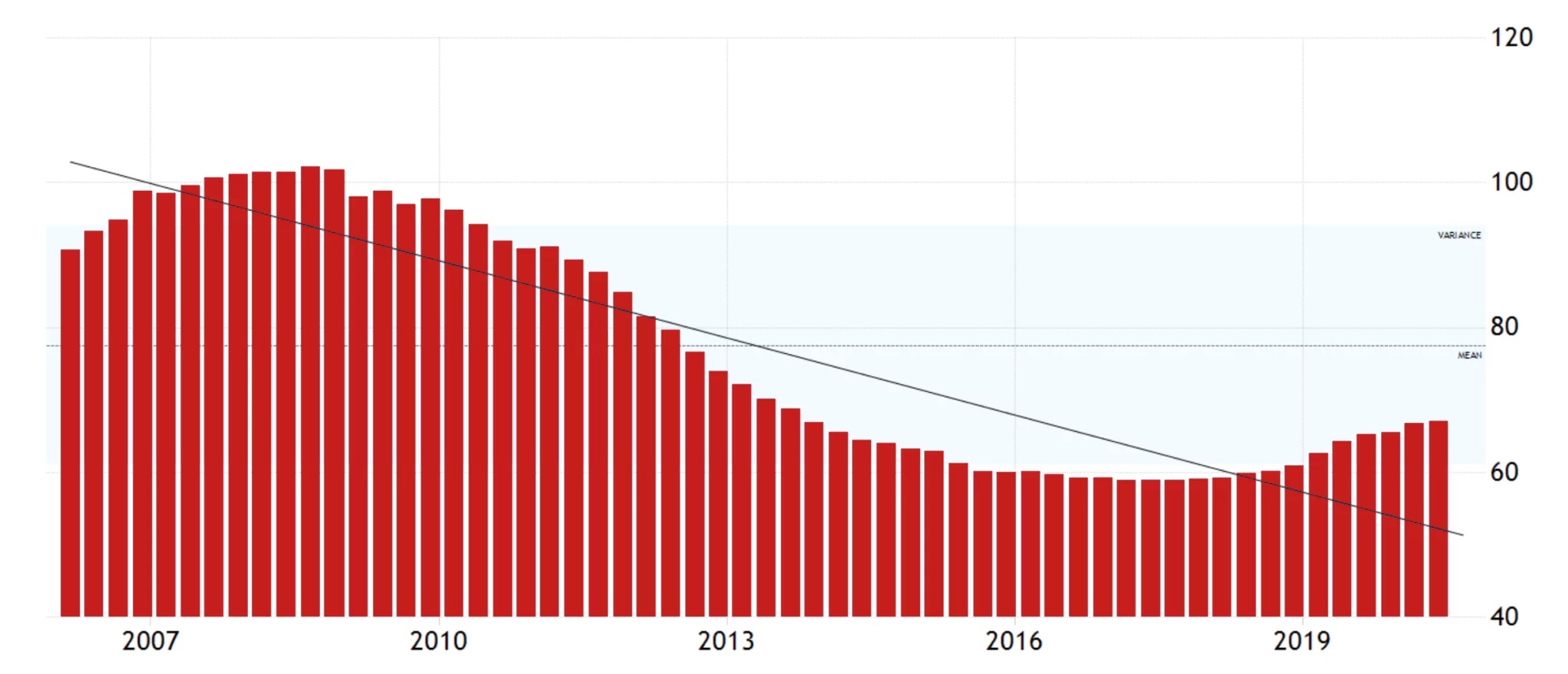 Source: tradingeconomics.com | Bank of Greece
It's no secret that you make your earning, when you buy right. So, if you buy at the bottom of the market, you'll reap the benefits of capital appreciation. The above table unsubtly shows that it's a buyers market in Greece.
Fine, that does not take a rocket scientist to figure out. But, has the above price trend been homogeneous all across Greece? How were different corners of the country affected by the crisis?
Well, the price changes in the real estate market have not been homogeneous. The trends differed between regions. We can refer to the Spitogatos Price Index per Area, in order to get a better understanding.
Let's note that the Spitagatos Price Index only reflects the trends in the asking prices. So, it's a healthy benchmarking tool, but not necessarily accurate in terms of the closing values. The figures presented per month or per year basis will only act as a statistical measure of change. The base will be Greek housing prices in 2011, where the index value is set at 10,000.
In this article, we will focus on areas that attracted international investors since 2017.
Unsurprisingly, the Greek capital Athens is at the top of the list, when it comes to international appetite. It offers a fast paced economy, high quality international schools, and many charms for the expat community. It's hard to beat a full-fledged European metropolitan, which enables its residents to enjoy nice beaches after a long work day is done.
Athens is followed by some popular islands in the Cyclades e.g. Mykonos and Santorini. Crete, which is the largest Greek island by area towards south east Greece, is a destination for many foreigners to settle at least part of the year. Corfu, west of Greece, facing Italy is another very nice Greek island which many foreigners set their eyes on to buy property.
Let's dive deeper into Athens and analyze the property price movements in two of the areas with the highest demand: the city centre and the Riviera in the South.
Athens City Center
In 2011 the index value for Greece was set at 10,000 overall, while the index value for Athens centre was just shy of the country overall, at 9,409. At this stage, the economic crisis had already started, but it was still in its earlier stages.
In 2017, the prices hit rock bottom. That year, the index value for Athens fell down to 4,632, more than a 50% decrease in just six years.
As of 2020, the same index adjusted to 7,015. A slight correction from the 2017 value, but still down by 25% compared to a nine years earlier.
It's fair to state that the prices in Athens city centre went through a roller coaster in a decade. However, it was the first area to go through a modest correction. It still holds a solid upside margin.
Athens South (Athens Riviera)
In 2011, the index value for South Athens was 13,047, much higher than that of Athens city center at the same time.
The value decreased by 26% between 2011 and 2017, then recovered by 23% as of 2020. The current value is still 10% below that of a decade ago.
It would be fair to summarize that South of Athens has a smaller upside potential compared to the city center.
It should, however, be noted that the Hellinikon Project, will bring lots of buzz to the area. It is the largest regeneration project in Greece, transforming the old airport to a high end mixed use real estate development. It will include a hotel, a shopping centre, residential buildings, and a marina. The project will possibly push prices to an all time high in Athens.
Greek Islands
There are over 6,000 islands in Greece. Close to 230 of these are habitable.
Some of these Greek islands are important real estate markets, in high demand by Americans and Europeans as a summer holiday destination.
Below, we focussed on some of the more popular islands all of which have international airports, so quite accessible with airway and seaway. These include Crete (Heraklion), Corfu, Cyclades islands (including Mykonos and Tinos and a few others) and Lefkada.
Crete (Heraklion)

In Crete real estate, the downward trend continued until 2019. The index value decreased 40% from 9,677 to 5,645 between 2011 and 2019. It only bounced back by 1.3% in 2020.
Current prices are still practically at their lowest levels since 2011.
Corfu
A Greek Island on the Ionian Sea – close to the border with Italy
The index fell 24% from 8,880 to 6,774 between 2011 and 2018. Since 2018, prices in Corfu were adjusted by 9%. The 2020 values are still 16% below those of 2011.
Cyclades
A group of islands in the Aegean Sea, Southeast of mainland Greece
Cyclades Islands include Mykonos, Andros, Tinos, Naxos, Paros, Syros,Santorini, Syfnos, Ios and a few smaller islands. Needless to say, the most popular islands are Mykonos, Naxos, Paros, and Santorini. In recent years, Tinos also joined the cool kids club.

The above chart shows that the prices in Cyclades islands have been resilient throughout the crisis.
This is mostly thanks to Mykonos and Santorini, globally popular Greek islands, always in high international demand.
It is also worth noting that the prices of decent properties in these islands are much higher than the Golden Visa threshold of €250,000. That also reflects in the cost of living, which is much higher than the rest of Greece.
Lefkada
Referred to as the Caribbean of Greece; located in the heart of the Ionian sea, connected with the mainland by a small bridge

The index value decreased from 10,901 to 8,143 between 2011 and 2019, then climbed up to 8,640 in 2020. Although the prices seem to have picked up in 2020, the change is marginal and the current prices still lay around 20% down from 2011.
Get Golden Visa: Who We Are and How We Can Help You
Get Golden Visa is a full-service investment immigration agency & investment advisory company.  We provide end-to-end solutions on residence and citizenship by investment programs in numerous countries worldwide.
We helped hundreds of clients find the right property in Greece through our local office.
Contact us and talk to one of our experienced team members to help you with your questions.
Get in Contact
Recent Incentives for International Property Investors
Temporary Greek Residence Can Be Obtained Completely Remotely
The government passed a legislative amendment in December 2020, enabling the Golden Visa applications to be made remotely. It used to be that as the investor, you and your dependents needed to step foot in Greece before applying. Now, your legal representatives in Greece can apply on your behalf and receive your temporary residency paper, known as blue paper. They can then simply ship it to your home address, wherever you are.
Tax Advantage for Non-Greek Retirees
The Greek government issued a new tax regulation to be applied from the tax year 2020 and it involves individuals earning pension income arising from outside Greece. Therefore, non-Greek pensioners that move their physical residence to Greece and become tax residents can benefit from a 7% flat tax rate on their income acquired abroad as long as they spend more than half the year in Greece.
You are required not to be a tax resident of Greece in the previous five years. Furthermore, your country of origin must have a Double Taxation Agreement with Greece.
This started to impact real estate markets in popular Greek islands, where non-Greek pensioners are keen to live in and enjoy the good weather. We observe increasing interest for Crete and Corfu, as well as some of the Cyclades islands.
Tax Break for Digital Nomads:
The Greek government is working on a special tax break and visa terms for Digital Nomads. However, the details are still unclear as of the first half of 2022.
It is rumored that self-employed expats will have a 50% tax break from their income tax, if they choose to move to and live in Greece. The scheme will possibly provide a tax break for the first seven years of residency.
The pandemic made remote working a reality. This initiative will particularly attract attention to Athens, a city with metropolitan vibes that also offers easy access to beaches. It also offers a low cost of living for a European capital.
Key Takeaways
Athens is always the top destination for real estate investment in Greece.

It is the most liquid property market in the country.
Heartland of business activity and social vibes.
Rental activity is very busy in the city.
Digital Nomad & Self-Employment tax breaks will significantly affect the rental prices in Athens.

Popular Greek Islands only experienced a short and slight bump during the economic crisis.
Holiday and investment destination islands like Crete still offer a good margin for an upside as of 2022; the potential for upside is followed by Lefkada and Corfu.
Tax advantage for non-Greek pensioners caused many inquiries from American, Canadian, and British retirees.

This will trigger a price increase in the real estate prices at Greek Islands.