The Greek Ministry of Migration and Asylum released the updated figures for Greece Golden Visa. According to these numbers, since the program's launch in 2013, 9,129 main applicants have been granted Greece Golden Visa. The number for the main applicants and their dependent family members is 27,449.
In the first five months of 2021, 117 main applicants were approved. The rate was 23.5 approvals per month. However, in the last four months, this rate increased to 109.25, showing an improvement of 367 percent.
The overwhelming majority of the main applicants and dependents are from China. The number of main applicants is 6,274. 578 Turkish citizens have been granted Greece Golden Visa, while the figure for Russian is 530. See the below charts to see other nationalities.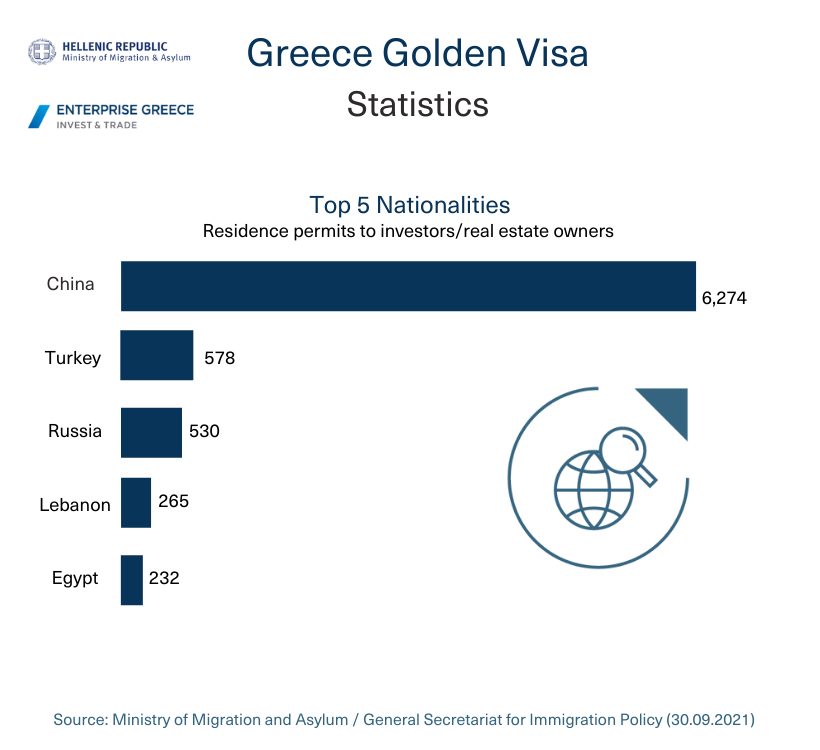 554 main applicants were granted Greece Golden Visa between January 5th and September 30th this year.
The USA nationals are now in the Top 10 applicant nationality list. 86 main applicants from the USA and 221 dependent family members have been approved so far.
Get Golden Visa: Who We Are and What We Do
Get Golden Visa is a full-service investment immigration agency & investment advisory company. We provide end-to-end solutions on residence and citizenship by investment programs in numerous countries worldwide.
We have a local office in Athens, Greece with legal professionals and chartered real estate professionals in our team.
We work with clients from all around the world, interested in obtaining Greece Golden Visas or in making real estate investments in Greece.
Contact us and talk to one of our experienced team members to help you with any and all your questions.