What is Malta Citizenship by Investment Program?
For those who are interested in a second citizenship to relocate their personal and business matters to an EU country, Malta's first EU approved citizenship program, Malta Citizenship by Investment Program is a viable option. This program grants Maltese citizenship for life and it gets passed on to future generations by descent.
Malta got accepted as a member of the European Union in 2004, and is a part of Schengen area since 2007. As at June 2018, the number of applicants in the Maltese citizenship program was just over 1,431, out of the cap of 1800 applications in place for the whole program.
Malta Citizenship by Investment may be granted under an amendment passed in November 2013 to the Maltese Citizenship Act, Chapter 188 of the Laws of Malta.  These amendments provided the framework for the enactment of LN 47 of 2014.  The Malta Individual Investor Program (MIIP) rules provide for affluent persons of impeccable standing and repute to be naturalised and to receive Maltese citizenship on the basis of a contribution to and investment in Malta. 
Malta Individual Investor Program Statistics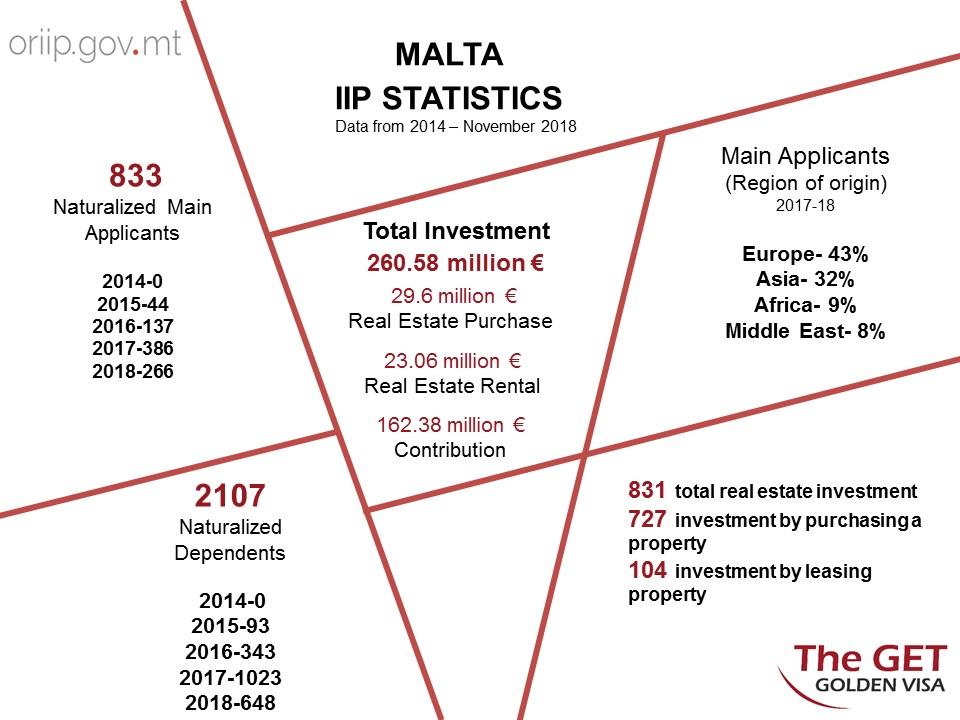 Benefits of Maltese Citizenship by Investment Program
Malta passport grants visa-free travel to over 166 countries, including EU, USA, Canada. It also enables its holder to live, work, study in any of the 28 EU countries, Norway, Iceland, Switzerland & Liechtenstein.
Family eligibility includes parents of main applicant and spouse, minor children, unmarried dependent adult children under 27. Descendants are also automatically entitled to citizenship thereafter.
Malta is a neutral, safe and stable country with a friendly people living a European lifestyle but with a Mediterranean quality of life.
Malta's Citizenship by Investment Program has a four month processing time. Within the first three weeks, program grants residence cards with Schengen mobility for 18 months.
Eligibility for Malta Citizenship by Investment Program
To qualify under the regulations, the main applicant for Malta Citizenship by Investment must be at least 18 years of age and must meet the requirements outlined in this factsheet. The main applicant may also add dependents to a citizenship application. Their spouse, children, parents or grandparents can also benefit from the Malta Citizenship by Investment Program under certain conditions.
Good Health: Applicants must not suffer from a contagious disease and that they do not carry a disease requiring treatment that could impose a burden on the Maltese health system, and they should have the necessary documents to prove so.
Contribution to the National Development and Social Fund: To qualify for Malta Citizenship by Investment, the main applicant is required to contribute at least €650,000 to Malta.  Of this contribution, 70 per cent will go into the Fund set up by the Government of Malta and run by a board of trustees. The rest goes to the consolidated fund.   Spouses and children are required to contribute €25,000; unmarried children between 18 and 25 and dependent parents must contribute €50,000 each.
"Fit and Proper" Test: Malta Citizenship by Investment Program applies a high quality due diligence process in order to justly allow only the deserving applicants to have Maltese citizenship. Criminal record of the applicants must be clean in order to not jeopardize the acceptance of application. Applicants must also provide a police certificate which may be submitted subsequently to the submission of the application but at all times prior to approval.
Property Purchase or Rental: Applicants are required to make an investment in property of at least €350,000 or enter a property rental contract for at least €16,000 per annum, both on five-year contracts.
Investment in Bonds/Shares: Applicants are required to invest at least €150,000 in bonds or shares from time to time approved by the Maltese Government to be kept for at least five years. This investment will need to be made in stocks sanctioned by the government as beneficial to the Island.
Residence Status: Applicants must commit to a minimum physical presence in Malta before citizenship is granted. Provided that the applicant has met with the minimum residency requirements, it acts as the evidence of a genuine link with Malta, and enables the process to continue.
Taxation of New Citizens
Maltese tax system is based on domicile and residency – not citizenship. Residence for tax purposes is established by demonstrating an intention to reside in Malta indefinitely and definitely on the basis of a day count of 183 days.
Tax residents of Malta who are not domiciled in Malta are taxable on a remittance basis. Tax is due only on a sources basis on income and capital gains arising in Malta. A non-resident citizen of Malta is only taxable in Malta on Malta source income. So a Malta citizen who is a resident abroad is not taxable on their foreign sources of income.
Malta Citizenship Application Process
Apply for Residence: A deposit of only €5,000 is required at this stage on account of the €650K contribution: this covers the main applicant. Additionally, a fee of €1,000 is payable per dependent.
Day 0: Formal Application by Accredited Person: An application is formally submitted to Identity Malta with the essential supporting documents. Payments due now include the due diligence fees, passport fees and a deposit of €10,000 on account of the €650K contribution, less any payments made on applying for residency. Evidence of source of funds must be presented.
Day 90: Identity Malta confirms if documentation submitted is formally in order, subject to a further month of further verifications.
Day 120: In Principle Approval: This is the approval of the process conditional only to the fulfilment of the obligations undertaken under the Individual Investor Program.
Day 125: Formal Request for Contribution: Identity Malta requests payment of remaining balance on contribution.
Day 145: Deadline for paying balance on contribution.
Day 240: Final Compliance: Provide evidence of Property Purchase / Rental & €150K investment.
Day 183: Issue of Certificate of Naturalisation (maximum time to issue: 2 years). Subject to: Oath of Allegiance, 1 Year residence.
Grounds for Refusal of Malta Citizenship by Investment
As mentioned in this guide before, Malta Citizenship by Investment Program applies one of the strictest and highest quality due diligence processes out there. Identity Malta examines each application on its own regard and may be satisfied that the applicant is still worthy of being considered for approval notwithstanding the presence of any of the grounds listed below, due to special circumstances. In the case of approval, Identity Malta must provide reasoned opinion why the applicant should still be considered for approval and should refer the case to the Minister who has sole authority to approve.
Likely to cause disrepute to Malta

Denied a visa to a country

Providing false information

Having a criminal record or being subject of a criminal record

Potential national security threat
Malta's Individual Investor Program (IIP) and the Due Diligence Process
Malta's Golden Visa Program (IIP) is, in general, a well-received program. To be precise, the program adopted by the Malta Individual Investor Program Agency (MIIPA) has garnered several international positive reviews. Maltese government maintains high quality in its golden visa program by continually developing the processes and adopting an open-minded approach. This way, The Agency ensures the accession of only the rightful applicants through the program. The program is not about numbers, but more about quality and attracting talent who can prove to add value to the country.
The Different Stages of MIIPA's Due Diligence Process
Malta's renowned due diligence process involves four levels. The program which is considered the most stringent, and of the highest standard, in the industry owes its success to these four tiers.
First Tier
The first tier is the standard KYC (Know Your Customer) due diligence done by both the IIP Unit and the Agent through databases such as World-Check.
Second Tier
The second level is the clearance obtained from the Police Authorities following thorough checks through a number of databases, such as Interpol, Europol and others. Any issues encountered at this stage are reported back to the IIP Unit. It has to be pointed out as well that to be able to visit Malta, Third Country Nationals (TCNs) have to go through the standard Schengen screening procedures.
Third Tier
The IIP team takes care of the third tier of due diligence. There are two stages at this level. The first is that of completeness and correctness of the application. This in itself would identify anomalies in the application form that highlight any potential risk. Every kind of accompanying documentation submitted to the IIP Unit is checked to ensure that it has been filled in correctly and that the documents are submitted in the proper format, correctly translated, and apostilled or notarised as the case may require. 
The second stage is that of a thorough and in-depth online due diligence check and verification of documents submitted. These checks involve checking with international databases for sanctioned individuals and companies. Searches are conducted on all the members of the family applying for citizenship, their corporate affiliations, any significant one-time transactions, donations, or inheritance, and any significant business partners or very close associates.
Fourth Tier
The fourth level is conducting outsourced due diligence. Two reports are commissioned from international companies on every family to ensure that as much ground as possible is covered and no stone remains unturned. These checks would include verification of all the information submitted, checks with databases, both international and local, in each of the family's country of residence, and even discreet on the ground interviews with individuals who know the family.
As soon all these checks are done, another member of the due diligence team reviews all the information collected both internally and externally and puts all the pieces together. In cases where more clarity is required, the IIP Unit goes out with further questions to the applicant to ensure it has the right and proper picture of the family's application. 
Once all questions are answered, every application is first discussed internally within the IIP Due Diligence team. The team is composed of eight individuals from a banking and audit background, and who are trained in anti-money laundering regulations. Together, they share the information internally and corroborate the information gathered, which is then discussed again with the senior management team within the IIP Unit. 
Finally, the senior management of the IIP takes a collective decision where a recommendation is prepared and submitted to the Minister responsible for Citizenship, with all supporting documentation of due diligence reports and findings. The Minister, together with the team, reviews the findings again upon which a final decision.
Malta Citizenship by Investment Program Fees and Costs
The contribution made to the Maltese Government through IIP is established by law at €650,000, with a further €25,000 for each spouse and minor child, and €50,000 for each additional dependent added to the application. The applicant must also invest in government bonds or shares with a minimum value of €150,000 to be kept for at least five years, as well as in a qualifying property. The property must be purchased at a minimum value of €350,000, or alternatively rented at a minimum value of €16,000 per annum. The qualifying property must be maintained for at least five years from approval of the application.
Here is a simpler chart that shows the government contribution option of IIP:
The Contribution Requirements and the Schedule of Fees payable under each application are as follows:
Contribution Requirements:
€650,000 for the main applicant
€25,000 for the spouse
€25,000 for each and every child below 18 years of age
€50,000 for each and every dependant unmarried child between 18 and 26 years of age
€50,000 for each and every dependant parent above 55 years of age
Due Diligence Fees:
€7,500 for the main applicant
€5,000 for spouse
€3,000 for each and every child between 13 and 18 years of age
€5,000 for each and every dependant unmarried child between 18 and 26 years of age
€5,000 for each and every dependant parent above 55 years of age
Passport Fees: €500 per person
Bank Charges Fees: €200 per application
Frequently Asked Questions about the Malta Citizenship by Investment Program
1.Can EU citizens apply for the IIP?
Yes. European Union citizens can apply for Malta citizenship through the IIP.
2.Are there any countries that are disallowed to apply for citizenship through the IIP? If yes, which ones are they?
Yes, some countries' citizens are not allowed to apply for Maltese citizenship under the IIP. These countries are, alphabetically: Afghanistan, Chad, Iran, Libya, North Korea, Somalia, Syria, Venezuela, Yemen.
3.Is it mandatory to learn Maltese language to be eligible for Maltese citizenship?
Knowing Maltese language is not mandatory for naturalization.
4.Do applicants take a citizenship test before naturalization?
No, IIP does not require any citizenship tests to be taken.
5.Is there an expiration date of the validity of the citizenship taken under the IIP?
Once the Certificate of Naturalization is issued, the citizenship is considered to be permanent.
6.Is it allowed to hold dual citizenship including Maltese?
Yes, Malta recognizes dual citizenship.
7.Are the documents in the jurisdiction's native language accepted as valid?
All documents must be submitted in English. If the original documents are in another language, authorized English translations must be attached.