Cryptocurrency is a booming industry in many parts of the globe today. It is one of the most convenient forms of making transactions and provides utmost flexibility too. Even better is that it offers a new type of individual empowerment that is both exciting and dynamic. The digital asset is also flourishing for many other reasons. It protects against inflation, is cost-effective, and is also a secure way to make payments. What is even more interesting about this is that it is a private method that is self-governed and managed.
In this article, we'll look at some top crypto friendly countries where cryptocurrency can be used without any objections.
A note before you begin: As tax regulations regarding crypto are subject to change rapidly, we recommend that you speak to a tax lawyer or financial advisor from the related country before you make a commitment.
Crypto Friendly Countries Listed in This Article
Malta
Canada
Slovenia
The Netherlands
Portugal
Germany
Luxembourg
Estonia
Singapore
Switzerland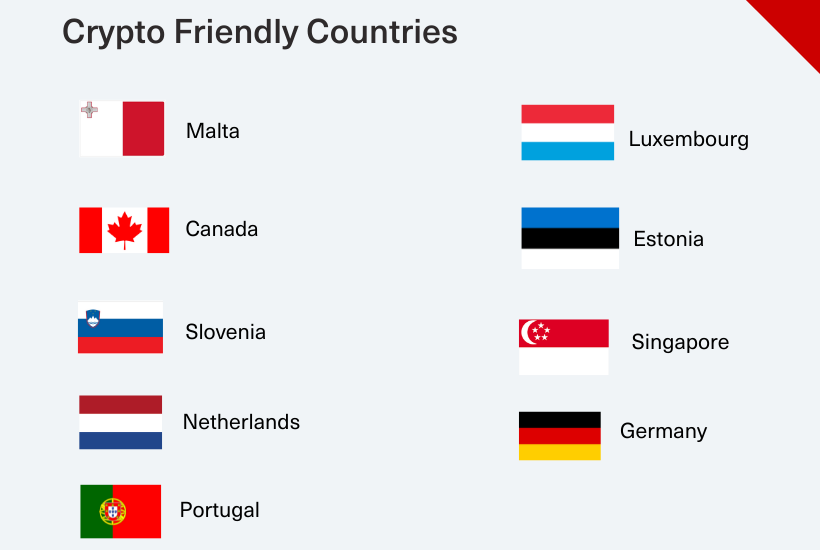 Crypto Friendly Countries
Malta
Malta has been using cryptocurrencies for the longest time now. For example, Binance returned from Japan to Malta because they thought Malta was more favorable. Malta is claimed as one of the most crypto friendly countries. Now, cryptocurrencies are also being used for trading purposes.
Authorities have passed the below bills to make the island a global leader in cryptocurrency regulations:
The Innovative Technology Arrangements and Services Act
Malta Digital Innovation Authority Act
Virtual Financial Asset Act
Agribank, Paytah, Founders Bank are the crypto friendly banks in Malta.
Canada
In Canada, no laws have been enacted that officially call cryptocurrencies illegal. That is why many cryptocurrency businesses can function in the country without any objections. Such an open-minded attitude helps people try out something new and make the most of new technology for future opportunities and advancement. However, we think that this type of attitude might not be present for too long here. Even so, Canada is considered a crypto friendly country.
In Canada, there are 1,464 bitcoin-friendly ATMs. It can be said that Canada is one of the cryptocurrency legal countries.
Slovenia
Amidst all other Bitcoin-friendly countries in Europe, Slovenia ranks at number one. The government authorities have officially declared their encouragement towards Bitcoin and Cryptocurrencies of other kinds. Individuals who benefit from trading Bitcoin (due to fluctuations in the cryptocurrency market) are not liable to income taxation in Slovenia. Cryptocurrency mining is not considered a VAT transaction in Slovenia, either.
The Netherlands
The Netherlands also exhibits an open attitude towards cryptocurrencies. The authorities believe that it could potentially help improve the economy of the country. Since the Netherlands does not hold any strict regulations against the same, people use cryptocurrencies without hesitation. They follow the standards demanded by the Financial Action Task Force (FATF.) That makes the Netherlands one of the cryptocurrency friendly countries.
Cryptocurrency is regulated by The Dutch National Bank (DNB) in the Netherlands.
Portugal
Today, if you are looking for some of the most crypto friendly countries in the world, Portugal is bound to reach the top. Cryptocurrency is tax-free in the country and many crypto traders have already made Portugal their second home. The enthusiasm related to crypto in Portugal is very high. Portugal established a "Digital Transitional Action Plan" in April 2020 to promote digitization. The government declared that this plan would create the appropriate climate for business innovation and digital transformation. The action plan also includes "Technological Free Zones" to enable blockchain and other field experiments. Therefore, Portugal is the leader of countries supporting cryptocurrency.
Germany
Germany has a unique approach when it comes to cryptocurrency taxes. The country favors individual investment and it regards bitcoin as private money rather than a currency, commodity, or stock in the country. According to German laws, bitcoin and other cryptocurrencies are exempt from capital gains tax if held for more than a year. On sale and purchase, they are not subject to VAT.
If you exchange the funds for cash or other cryptos within a year, your profit will be tax-free if it is less than €600. Thus, Germany can be considered as one of the cryptocurrency friendly countries.
Luxembourg
Luxembourg is one of the cryptocurrency legal countries. So, it regards cryptocurrency as a legitimate currency. There are no restrictions against trading with cryptocurrencies or using them within the country. Although Luxembourg has no explicit cryptocurrency rules, the government's legislative approach to them is typically progressive.
The CSSF regulates cryptocurrency exchanges in Luxembourg, and they must adhere to the same regulations as other financial organizations.
Today, the country is set to keep up with the crypto trends and develop the best strategies to deal with them. It's a good quality of crypto countries.
Estonia
Estonia is quite sure about creating a magnificent space in the world of cryptocurrency. It's one of the cryptocurrency legal countries. It's also one of Europe's hotspots for crypto firms, and cryptocurrency's popularity fits Estonia's image as a digital success story. This industry is booming, and investors are eager to invest in any blockchain-related solutions. In Estonia, transactions with bitcoin and other cryptocurrencies are taxed in the same manner as any other corporate activity is – there is no corporate income tax if the profit is not dispersed.
Estonia's financial business is also more crypto-friendly. LHV Bank in Estonia, for example, was one of the first financial organizations to embrace blockchain. The institution even launched a Cyber Wallet app, a blockchain-based wallet that allowed users to send digital representations of actual euros.
Singapore
Within Southeast Asia, Singapore is renowned as a fintech hotspot. The central bank of Singapore, the Monetary Authority of Singapore, believes that the cryptocurrency ecosystem should be closely supervised to avoid money laundering and other criminal activities, but that innovation should not be impeded. Thus, it makes Singapore a crypto friendly country.
There is no capital gains tax in Singapore. Individual and corporate cryptocurrency funds are not subject to taxation. However, if a corporation is based in Singapore and operates as a crypto trading company or accepts crypto payments, it is subject to income tax.
Switzerland
Swiss banks were the first in the world to offer crypto companies business accounts in 2018, recognizing that banking channels would help to eliminate fraudsters and encourage legitimate businesses. In Switzerland, cryptocurrencies are classified as assets, and Bitcoins are recognized as legal tender in some locations. If you trade or hold cryptocurrency as an investment in your own account and qualify as an individual trader, you will not be liable to capital gains tax. Buying and selling through authorized professional traders, on the other hand, is considered business income and is taxed accordingly.
Zug, a city in Switzerland is known as the "Crypto Valley". The city is a crypto hub with blockchain startups, enterprises, shops, and entrepreneurs. Crypto investors benefit from a tax-free environment in this crypto valley. Zug was the first place in the world to accept Bitcoin payments in 2016. We may say that Zug makes Switzerland the best country for crypto.
The Bottom Line
If you plan to make bitcoin investments or use another type of cryptocurrency, these crypto friendly countries could help you. So, make sure you invest after careful inspection and leave no stone unturned for safety. Also, note that as regulations of crypto countries might change from time to time, it'll be wise to check the updated information before you make any investment in a country.
You can also speak to a crypto expert to help you. Since they have professional knowledge, they can be better equipped to guide you. We hope you enjoyed our guide to top crypto countries.