Ireland is becoming the new hotspot for investors seeking the path of investment for long-term residency and citizenship in Europe. Irish economy is expanding and Ireland is home to many startups, established multinationals, and exciting innovations.
Ireland has a developed education system, provides language advantages, and offers a high standard of living. Being a thriving economy and a welcoming country, it's the perfect destination for businessmen and entrepreneurs to relocate and set up their businesses in Europe.
Becoming a resident in Ireland has become easier thanks to the Ireland Immigrant Investor Program (IIP). Here's the complete guide to help you with your application for Ireland Golden Visa.
What You Will Find in This Article
Ireland IIP: What is Ireland Immigrant Investor Program (IIP)?
The Irish government introduced the Immigrant Investor Program (IIP) in 2012 to encourage business professionals and investors from outside the European Economic Area (EEA) to invest and locate their business interests in Ireland. The program, also known as the Irish Golden Visa, permits eligible candidates to acquire residency status in Ireland.
Today, with more than €800 million investment from its resident investors, the Irish Golden Visa is growing at a fast pace. One key factor for its high success rate is that there's no cap on the annual applications. Investors are welcome to apply to the Immigrant Investor Programme any time.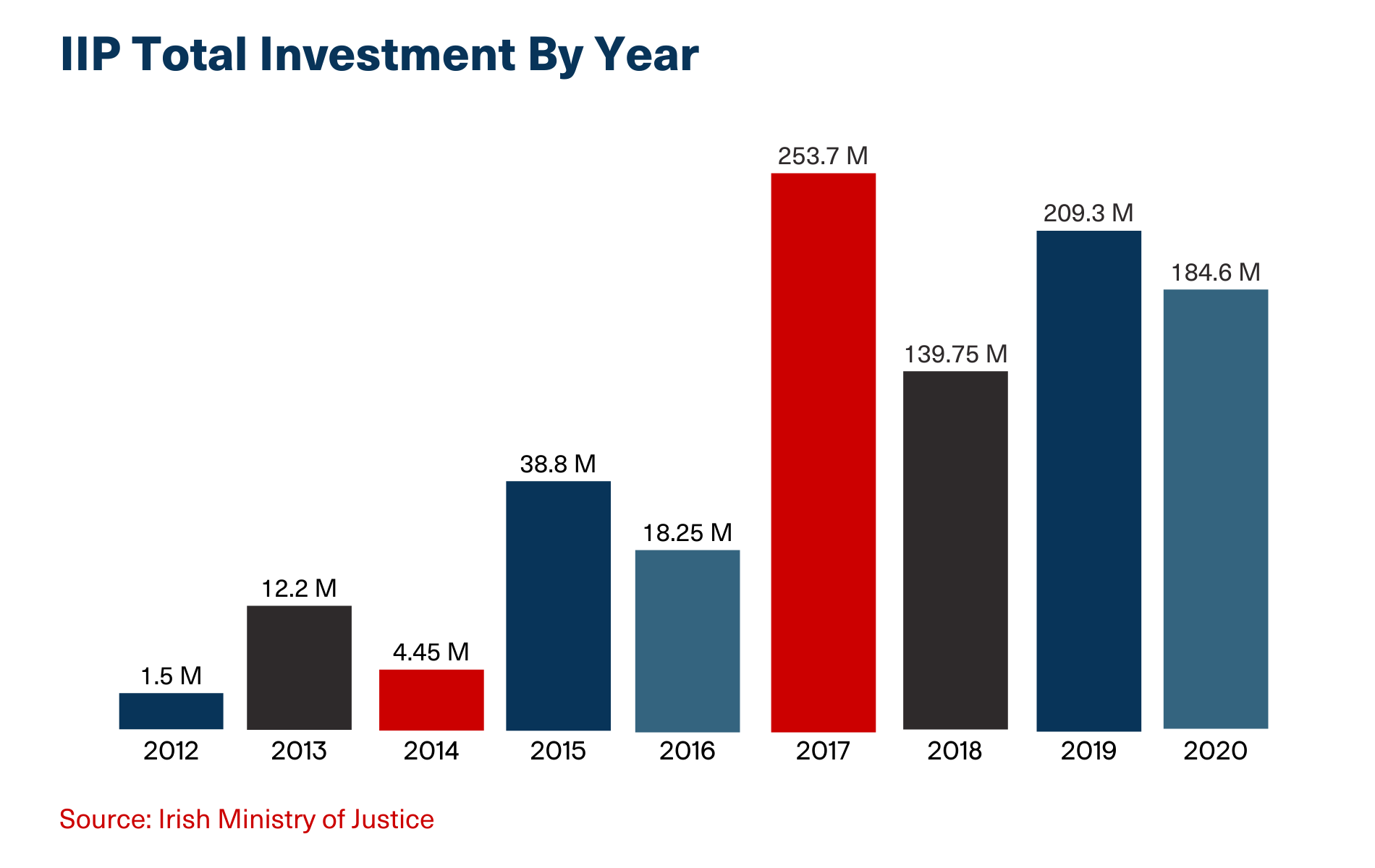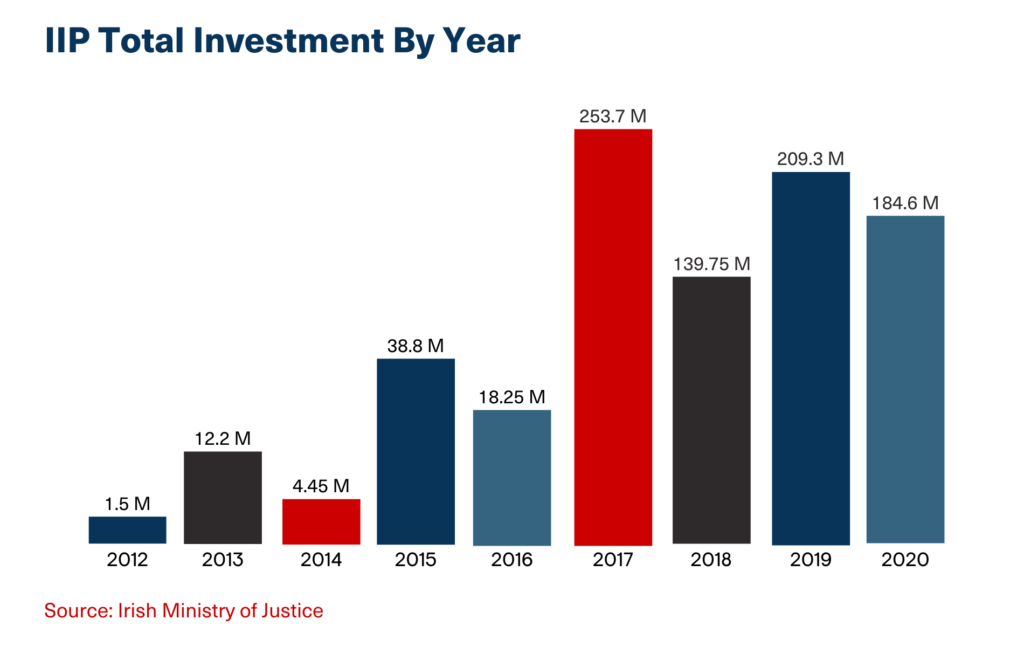 Ireland Immigrant Investor Programme offers four different investment options for prospective investors:

Enterprise Investment

: A minimum of €1 million investment in an Irish enterprise, or

Investment Fund

: A minimum of €1 million investment in an approved investment fund, or

Real Estate Investment Trust (REIT)

: A minimum of €2 million investment in an Irish REIT that is listed on the Irish Stock Exchange, or

Endowment:

A minimum of €500,000 donated to a beneficial project in Ireland
We'll delve into each option in more detail, later on in the article.

How To Obtain Ireland Residency by Investment?
Ireland IIP consists of four steps:
Application

: First, you make an application, without committing to any investment funds. Investors favor this feature as they don't need to deploy the funds and make the investment before they get approval for the residency permit.

Due Diligence

: The Evaluation Committee checks and approves your application. Please note that all applications are subject to a due diligence process in respect of anti-money laundering, Know Your Client, Politically Exposed Persons, and sanction checks. Additionally, the officials are engaging in data sharing by the OECD common reporting standards.

Investment:

You proceed with an investment in accordance with your approved application.

Proof of investment:

Finally, you prove that you've made the investment.
Eligibility Criteria
If you meet the below criteria, you can apply for Irish residence by investment:
You're

at least 18 years of age.

You're a non-EEA national.

You have a clean criminal record.

You have a net worth of €2 million.

You're able to prove that you're not going to get a loan to make the investment.
a) Evidence of Source of Funds
Along with your application, you'll be required to supply documents that establish the source of your funds. You can present documents on business and investment activities, deeds of sale, inheritance and gifts, and divorce settlement.
The Evaluation Committee is liable to contact the source of these documents to confirm the information.
b) Evidence of Character
Ireland IIP requires that applicants and their nominated family members (above the age of 16) submit a statement of character from legal authorities. This applies to each country the applicant has resided in for more than six months during the 10-year period before the IIP application.
Due diligence report from a reputable international risk management and security screening organization is also essential.
Family Reunification
You can apply for an Irish residence for yourself, and your spouse, and your children under the age of 18.
If your children are between 18 and 24 years old, in full time education, and dependent on you, they can be considered eligible too.
Investment Options for Ireland Golden Visa
Ireland IIP currently offers four investment options that you can choose to direct your money and become an Irish resident.
a) Enterprise Investment
This option requires a minimum of €1 million to be invested in a new or existing Irish enterprise for a duration of at least three years. If you plan to create a new business, this option may be ideal for you. 81 percent of the applicants prefer the enterprise investment option.
You can invest in single or multiple enterprises provided that the total amount meets the minimum investment criteria. Before investing, please confirm that the business you're investing in is registered in Ireland and that the main headquarters are in the country.

This investment option directly aims to support the creation or maintenance of jobs in Ireland. For this purpose, you'll need to submit a business plan along with the application.


The investment is to be made under the name of the applicant, not a corporation.

The purchase of publicly traded securities is not accepted as an eligible investment.

You can choose to invest in a single Irish enterprise or spread your investment over several Irish enterprises.

The applicants aren't allowed to invest in any commercial property with an intention to lease or rent it out.


Valid categories for enterprise option includes investments in social housing and primary care centers.
b) Investment Fund
The investment fund option requires a minimum of €1 million invested in an approved investment fund and kept for at least three years. An approved fund is a low-risk investment fund commissioned and regulated by the Central Bank of Ireland. It presents an opportunity to foreign investors to get residency in exchange for investment.
Irish Central Bank is liable to check and approve the fund and the fund managers. Qualifying funds are required to be managed by a registered fund manager located in Ireland.




All funds are required to invest in Ireland and represent equity stakes in Irish registered companies. The other criteria is that these companies aren't quoted on the stock exchange.
If you're planning to go with this option, it's recommended that you perform your own due diligence and consult professionals to make an informed decision.
c) Real Estate Investment Trusts (REIT)
This option requires a minimum investment of €2 million in any Irish REIT that is listed on the Irish Stock Exchange for a period of three to five years. A REIT is a listed company that is used to hold rental investment properties. It's globally recognized as a standard for investment in rental property assets. REIT offers the investors a lower-risk property investment model with the ability to diversify the investment into a pool of properties.
REITs distribute the majority of profits each year. If you opt for this investment model, you'll receive a regular income stream.

Real Estate Investment Trusts aim to provide an after-tax return for investors. For this reason, REITs are exempt from corporation tax on qualifying profits from a rental property.

This option allows you to divest a maximum of 50 percent of your shares after three years from the date of purchase. After four years from the purchase date, you'll be allowed to divest an additional 25 percent. Once you've completed the five years, you can completely divest and still keep your Irish residency status.


If you intend to invest in a REIT, first you'll be required to make a declaration to the Evaluation Committee. Your application will be subject to the recommendation of the Committee and approval of the Minister.
d) Endowment
This option entails a minimum endowment of €500,000 in a project of public benefit in Ireland. Endowment investment is the lowest amount of investment IIP offers. This investment option requires you to invest €500,000 into a project that will benefit institutions like arts, sports, health, and education in Ireland. Since it's considered a philanthropic contribution, the money is non-refundable. The endowment is the second popular choice for investors after the enterprise investment option.
The endowment option promises no financial return.




This option requires that the endowment is visible to the public and beneficial to the community.

Five or more people can pool money for an endowment project. In this case, each investor is required to make an investment of a minimum of €400,000.

Once you make the endowment, you'll have no financial obligation under the Ireland Golden Visa program.
Please note that these investment options and rules are subject to change.
Get Golden Visa: Who We Are and How We Can Help You
Get Golden Visa is a full-service investment immigration agency. We provide end-to-end solutions on residence and citizenship by investment programs in numerous countries worldwide.
We work with clients from all around the world, interested in obtaining Irish Golden Visa.

Contact us and talk to one of our experienced team members to help you with your questions on Ireland Immigrant Investment Program.
Benefits of Ireland Residency by Investment Program
The Ireland Immigrant Investor Program is considered one of the best immigrant investor schemes in the world. Leading to citizenship after a period of time, low stay requirement, and tax regime are among the benefits that motivate the investors to choose the program.
Get Irish Residency

: After your IIP application has been approved, you'll get an Irish residency permit, also known as Stamp 4. You and your family can live, work, start a business, or study in Ireland for the next two years with this permit.

Path to Citizenship

: After you've resided in the country for five years and paid all taxes, you'll be eligible to apply for Irish citizenship and a passport. An Irish passport will enable you to travel to more than 185+ countries in the world. Your family members are also eligible to apply for citizenship. Once you get your passport, you can reside, work, or study in any of the EU countries with no additional visa requirements.

Low Stay Requirements

: If you don't plan to apply for Irish citizenship after five years, staying in Ireland for one day a year will suffice to keep the permit. This is one of the lowest stay requirements among all other EU countries offering residency programs.

Stay in Ireland After Claiming the Investment Back

: Once your five-year is up and you claim your investment back, you can still keep your residency in the country and apply for citizenship.

Prioritized EU Entrance

: Stamp 4 holders require a visa to travel across the EU countries. However, the visa is easily processed and usually granted free of charge. Once you obtain your citizenship, you'll be able to travel within the EU visa-free.

Favorable Tax Regime

: The corporate tax rate is 12.5 percent in Ireland and the tax system is based on residence. If you don't plan to stay in Ireland during the term of your visa, you don't need to become an Irish tax resident. However, please note that you'll be taxed on the income you receive in Ireland. This includes the income from investments and those you remit.

Superior Education System

: With Irish residency, your children will have access to the top colleges and universities in Ireland, such as Trinity College and University College Dublin. You can also avail of a discount of up to €50,000 on your investment for any educational expenses you're planning to commit to in Ireland.

High Standard of Living:

Ireland ranks second for quality of life on the Human Development Index. The country also stands out with amenities, jobs, earnings, housing, and personal security. Ireland will offer you and your family a pleasurable and balanced way of life.

Dynamic Business Environment

: Ireland offers competitive operating costs and high-quality services. It attracts high-value investment projects in many sectors, adding quality to the lives of residents.

No Need To Learn English

: English is the official language of Ireland. However, you don't need to master the language to invest or live in the country. This is an attractive benefit for people from China and other Asian countries with a native language other than English.

Access to the UK

: If you get your Irish citizenship after five years of residency in Ireland, you'll have the right to live and work in both the European Union and the United Kingdom. As per the Common Travel Area Agreement signed by Ireland and the UK, the citizens of both countries gain the right to work, study, and travel freely between two countries.
Ireland Residency by Investment Application Process
Prepare an application to be approved for the Ireland Golden Visa indicating the investment opportunity you wish to undertake.

Provide all requested supporting documentation that includes evidence of your net worth, details of the source of your wealth, and evidence of good character.

Pay the application fee of €1,500 by electronic funds transfer. Please note that any incomplete applications will be returned and rejected. The application fee is non-refundable.
If a section of the application form doesn't apply, please strike it off and mark it as N/A. Also, you don't need to invest or commit to funds before approval is granted.
The application fee of €1,500 fee covers the application for the main applicant along with all other eligible nominated family members.
The application goes through an Evaluation Committee, composed of senior officials belonging to Irish Government Departments and Irish State Agencies involved in enterprise development.
The Evaluation Committee will assess your application based on your profile and the business plan you've submitted.
Step by Step Guide to Ireland Golden Visa
Once you've decided on an investment option, you'll be required to take the following steps to get your residence in Ireland.
Step 1: Speak to Get Golden Visa team and start your application
Prepare your documents and make an application to Immigration Service Delivery (ISD) without committing any investment. Our team of experts will help you choose the best investment.
Step 2: Get your pre-approval
Obtain the approval of the application from the Evaluation Committee of the ISD.
Step 3: Complete the investment
Make the investment with your approval letter within 90 days.
Step 4: Submit your documents
Submit your evidence of the investment to the Minister.
Step 5: Get the Final Approval
Get your approval letter from the Minister to be used to register your residency permit.
Step 6: Get Your Irish Golden Visa
Get your two-year residence permit and become an Irish resident.
Ireland IIP allows you and your family members to keep your residence permits by staying in the country only for one day a year.
Our team at Get Golden Visa is committed to guiding you through your Ireland Golden Visa process.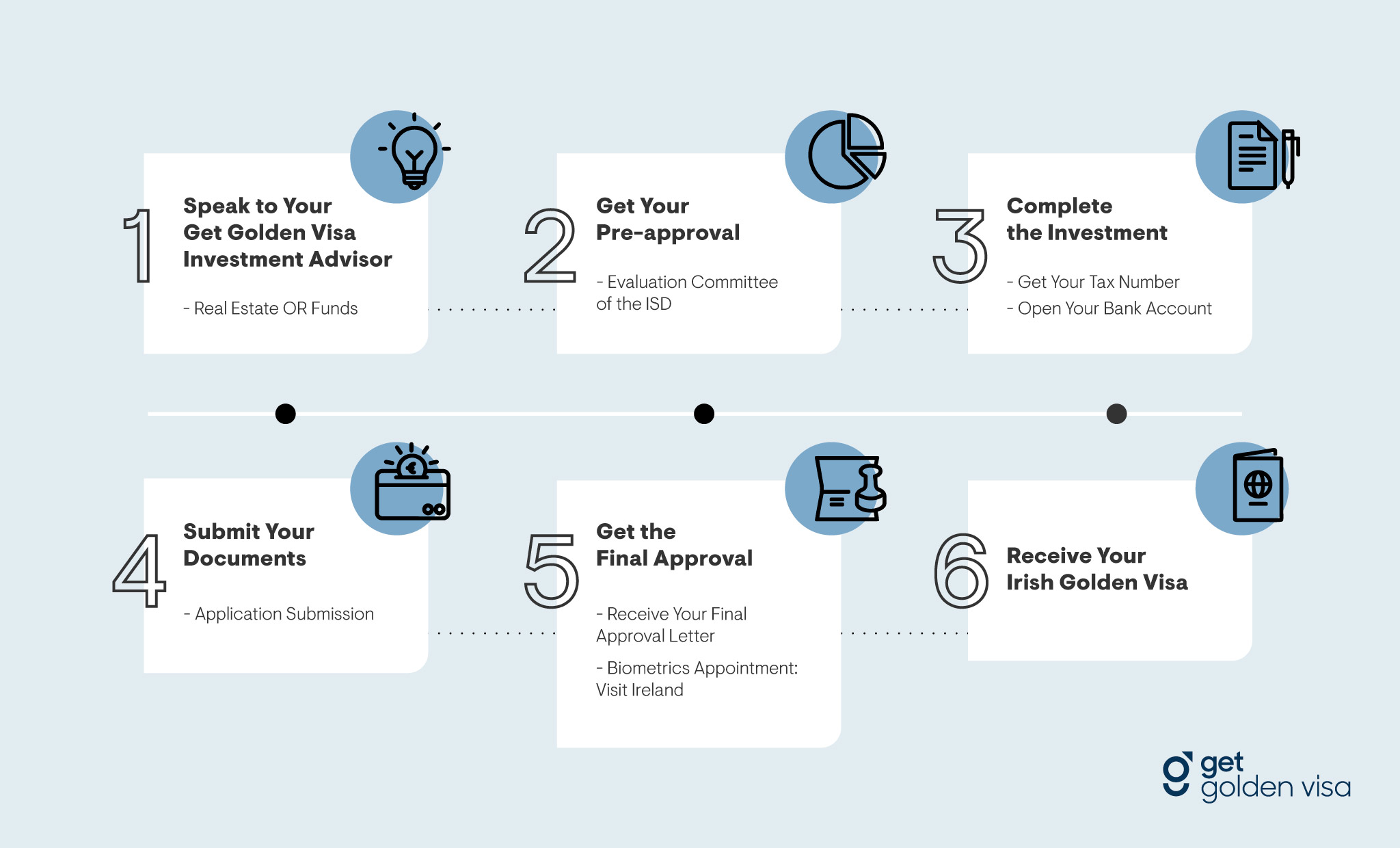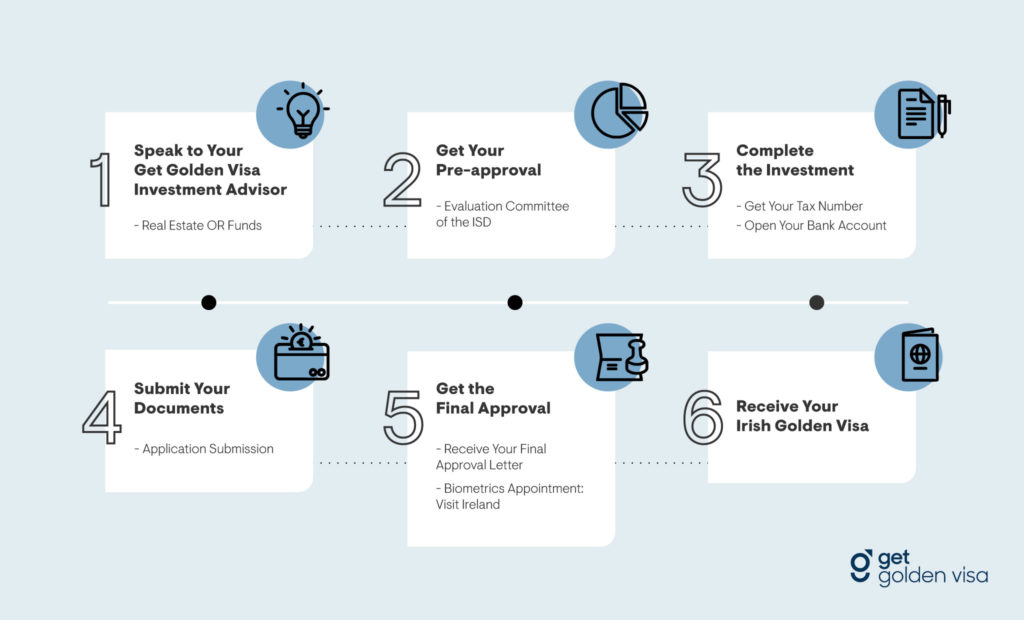 Required Documents for Ireland Golden Visa
Here's the list of documents you need to provide during the whole procedure.
Original passport and its photocopy

Two passport-size photos

Original and certified copy of the birth certificate (if applicable)

Original and certified copy of the marriage certificate (if applicable)

Proof of personal net wealth

Evidence that you have sufficient funds available

Statement of the source of funds.

Fund sources that are usually considered are:

business and investment activities
deeds of sale
inheritance and gifts
divorce settlement

Original police clearance certificate

Payment receipt of the application fee

Evidence of private medical insurance

Proof of income

Proof of loans

Evidence of relationship with other family members
Supporting Documents for Ireland Golden Visa
Apart from the main documents, there's also a set of supporting documentation needed.
Supporting Documents for Enterprise Investment Option:
In your application for the enterprise investment option, you're required to submit the below documents:
A business plan that explains your prospective investment,
A detailed scheme of employment the investment is going to create,
An explanation of how you expect to get a return on your investment
Recent audited accounts of the enterprise (if you're going to invest in an existing one).
Supporting Documents for Real Estate Investment Trusts (REIT) Option:
Once your application for Ireland Golden Visa has been approved, you'll need to submit a share certificate and a letter specifying the number of REIT shares you've purchased. You'll get your residence permit only if you can provide this document.
Supporting Documents for Investment Fund Option:
When your preferred investment option is an investment fund, you're going to supply proof of your character, wealth, and source of funds. If a fund manager or legal representative is applying on your behalf, The Committee will assess them, too.
Supporting Documents for Endowment Option:
If you're going to take this investment route, you're required to submit a detailed explanation of how your donation is going to be used in the project. You also need to explain how it'll be beneficial to Ireland.
Renewal of Ireland Investor Visa
After two years, you can apply to renew your resident permit, on the condition that you still maintain the investment. If the investment qualifies and you're still financially stable, you can extend your investor visa for three more years. You're required to apply for renewal three months prior to the renewal date.
After completing this period, you'll get a residence permit for a further five years.
Your residence permit will be renewed for further five-year periods, on the condition that you're not a financial burden in the country and you've not been investigated, indicted, or convicted in relation to any criminal offense in any jurisdiction.
Ireland Citizenship by Investment
Please note that physical residency in Ireland is taken into consideration in naturalization applications. If you and your family members don't plan to reside in Ireland, you'll not fulfill the residency requirements for Irish citizenship.
You're eligible to apply for Ireland Citizenship if:
You and your family are residents in Ireland for at least one year, immediately before the date of applying, and

You and your family are residents in Ireland for four of the preceding eight years.
Does Ireland Golden Visa Lead to Citizenship?
Ireland IIP is a residency program and not a direct route to citizenship by investment. However, residency in Ireland can support a citizenship application under the naturalization rules of the country.
You can either apply for Irish permanent residency or qualify for Irish citizenship after completing at least five years of residency in the country.
Dual Citizenship Ireland: Does Ireland Allow Dual Citizenship by Investment?
Under Irish law, you can be Irish citizenship without renouncing your current nationality. Ireland allows for dual citizenship.
If you wish to apply for an Irish passport after a span of five years in the country, you'll be able to keep your original citizenship too.
In some countries, the law may require you to renounce your Irish citizenship before becoming a citizen of that nation. However, if you've previously renounced your Irish citizenship, you can reacquire it under some specific circumstances.
Frequently Asked Questions on Irish Residence by Investment
What is Ireland Immigrant Investor Programme?
Ireland Golden Visa by investment allows non-EEA nationals to apply for residence and become Irish citizen after a period of time, on the condition that they meet the criteria.
What are investment options under the Immigrant Investor Programme?
There are currently four options available. These are Enterprise Investment, Investment Funds, REIT, and Endowment. You can choose one of these investment types to qualify for Irish Immigrant Investor Programme and get Ireland Golden Visa.
What is the net worth requirement to apply for the Irish Residence by Investment?
You're required to have a net worth of €2 million to be able to apply for Ireland Golden Visa.
Can I get Ireland Golden Visa quickly?
Ireland Golden Visa process usually takes four to six months. But it might take shorter or longer depending on circumstances.
Is there a deadline or limit to apply for Ireland Immigrant Investor Programme?
No, there is no cap for annual applications Ireland Immigrant Investor Programme. You can apply anytime and get Ireland Golden Visa.
Can I take a loan to invest in Ireland Immigrant Investor Programme?

No, Ireland Golden Visa requires you to prove that you'll make the investment without getting a loan.
When can I get an Irish passport with the Irish Immigrant Investor Program?
To get an Irish passport, you're required to have been resident in Ireland for at least one immediately before your citizenship application. You're also supposed to have stayed in Ireland for four of the preceding five years.
Do I have to stay in Ireland if I apply for Irish Investor Visa Programme?
No, if you're not planning to apply for citizenship in the future, you can visit Ireland only for one day per year and still keep your status.
Is Ireland still a part of the European Union?
Yes, Ireland is an EU country and the only English-speaking country left in the Union after Brexit.
What is the minimum investment for Irish Residence Program?
The minimum investment for the Irish Residence Program is €500,000 which is available by the endowment option.
Does Irish residence allow visa-free access to Schengen Zone?
Irish residence permit doesn't allow travel around Europe without a visa but getting a visa will be easier and usually free of charge.
I'm the main applicant. Can I add my children and family members to the immigrant investor programme?
Yes, you can add your dependent children. You can also add children between 18-24 years old if they're financially dependent on you.
Can I buy Irish citizenship by investment with an investor visa?
No, an investor visa doesn't grant you citizenship. But if you meet the residence requirements you can obtain an Irish passport after a period of time.
Can I apply for Irish citizenship when I get my Golden Visa?
No, you're required to be physically resident in Ireland to get Irish citizenship.
I'm an American citizen. Can I get Irish citizenship by investment?
Yes, American citizens can get Irish citizenship by investment if they apply for Golden Visa in Ireland. If they meet the residency requirements they might get Irish citizenship at the end of a minimum of five years. It's going to be wise to check all the requirements before you invest.
Do I have to live in Ireland to keep my status?
No, you don't have to live in Ireland to keep your status. Visiting Ireland for one day per year would suffice.
Which documents can be submitted as evidence of net worth?
Business and investment activities, deeds of sale, inheritance, and divorce settlement can be submitted.
Can I buy real estate to get residence in Ireland?
Real estate acquisition isn't an investment type accepted under IIP.