Canada's popularity as a perfect hub for startups is rising. The country has been attracting talents from all around the world with its favorable startup ecosystem. The country today ranks 4th in the Global Startup Ecosystem Index. Toronto, Vancouver, Montreal, and Ottawa are among the first 100 cities that rank globally.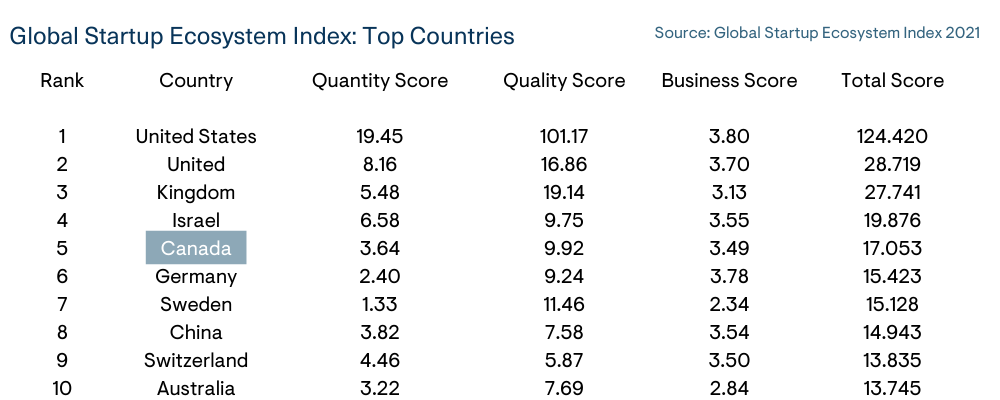 So what drives this growth? How does Canada succeed to attract entrepreneurs and how does it create a hospitable environment for startups? In this article, you'll get to know more about the startup scene in Canada and the ingredients for their success. You'll also get insights on which Canadian cities offer the best environment for startups. Let's get started!
Why Canada
With its market oriented economic system, high standards of life, proximity to the US, and native English language make Canada an attractive place for foreign talent. Today Canada is seen as one of the best countries to start a business. This is mainly due to the incentives and the nation's friendly approach to startups.
Funding Support: Grants and Loans
One of the biggest drives is the support the startups get from the Canadian government. The government always encourages startups with financial support. It offers tax breaks, credits, and refunds which encourages the efforts. There are many financing options for startups, such as loans and grants. The government of Canada is also helping companies with its Venture Capital Catalyst Initiative program. 
Governmental and Educational Support System
Another reason is the support from the educational side. Today many universities in Canada are home to incubators embedded in their system. These incubators are funded by government grants. Scientific Research and Experimental Development Tax Credit offers refunds of up to 65 percent of Research and Development (R&D) costs.
Support From the Communities
In Canada there are many communities and non-profit organizations that support the country's startup scene to grow. They deliver programs that help entrepreneurs. If you're new to the Canadian startup environment, you can get help from these communities.
Immigration Programs
Canada offers immigration programs that help entrepreneurs come and start their own business in the country. Startup Visa is one of these incentives. If you're looking for a favorable atmosphere and a smooth relocation, Canada Startup Visa might be ideal for you. Please check out our article Canada Startup Visa for further information. 
A Skilled and Talented Workforce
Canada is home to many of the best educational institutions in the world. Every year many talents graduate from The University of Toronto, McGill University, the University of British Columbia, and the University of Waterloo. Most of these graduates prefer to work in a Canadian startup. This helps the startups to get top-notch workers. 
Canada Startup Ecosystem: Best Cities for Startups
Canada has three cities in the top 50 globally in Global Startup Ecosystem Index. Let's have a look at these cities.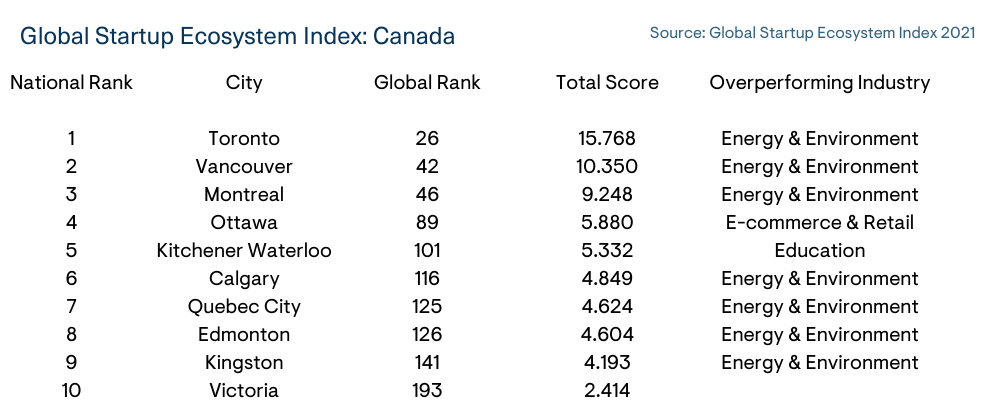 Toronto
Globally ranked 26, Toronto is the leading startup hub in Canada. With a highly educated talent pool, Toronto offers many support programs for startups. Plus, the Toronto-Waterloo corridor is the second largest technology cluster in North America. It's a base for almost 15,000 technology companies where 300,000 tech workers serve.
According to the Global Startup Ecosystem Report, Toronto's ecosystem value is $17 billion, while the global average is $10.5 billion.
Vancouver
Vancouver is drawing attention as a tech hub. Thanks to its software development and AI schools, the city is graduating tech leaders and innovators. The ecosystem value of Toronto is $30.5 million.
Montreal
With $1.7 billion in venture capital financing since 2018, Montreal is an ideal hub for entrepreneurs and startups. The city is home to more than 30 incubators and accelerators.
Key sectors in the city are aerospace, video games, cybersecurity, and fintech. Montreal is also known as the most affordable major city in North America.
Ecosystem value of Montreal is $8.7 million.